I was driving to the post office this morning and I felt the baby move. I was so excited and so proud...I wanted to shout to all who could hear, "Hey, I have another baby growing inside of me and he is officially moving!" What an amazing feeling...does not seem to get old, no matter how many pregnancies a mother experiences! The weird part for me is not wondering which one just kicked me and remembering to stop referring to this baby as "they" or "them". It's just 1 in there!!

Everybody keeps asking me what the boys' think about having a new baby brother. If they get it. I think this conversation pretty much sums up what they think about the whole situation:

Ms. Sara: "So B-man, is Mommy going to have a baby?"
Brody: "No, she not."
Ms. Sara: "Yes she is! She is going to have a little brother!"
Brody: "No, Mommy is a girl."
Ms. Sara: "Yes, Mommy is a girl, but she is having a baby. She has a baby in her belly!"
Brody: Looking very serious...."Mommy ate the baby???"

If you ask Wade if he is excited about Mommy having a baby, he replies, "No." and then says, "It's a sister!"

Listening to their little responses to the world is hilarious. You should hear them pronounce the word 'stick'. Let's just say that I have it on video, but it is not appropriate to send out, on this here blog.

There are so many moments that I do not want to forget...that I know, as time passes by, they will slowly dwindle from my memory bank. The innocence of a child cannot be fully captured...like the moments when we pass a home with Christmas lights...how they literally shreek in enjoyment. Or watching them learn empathy. Or how they have perfected their fake cries, all the while grinning because they have finally realized that we are not buying it. Or how every night at the dinner table, we have to clap every time each one of them eats a bite of veggies...they tell us to clap, and cheer each other on and even clap when Todd or I take a bite of food. Too cute.

Wade has taken an interest to watching us cook in the kitchen. He wants to be involved in each and every process...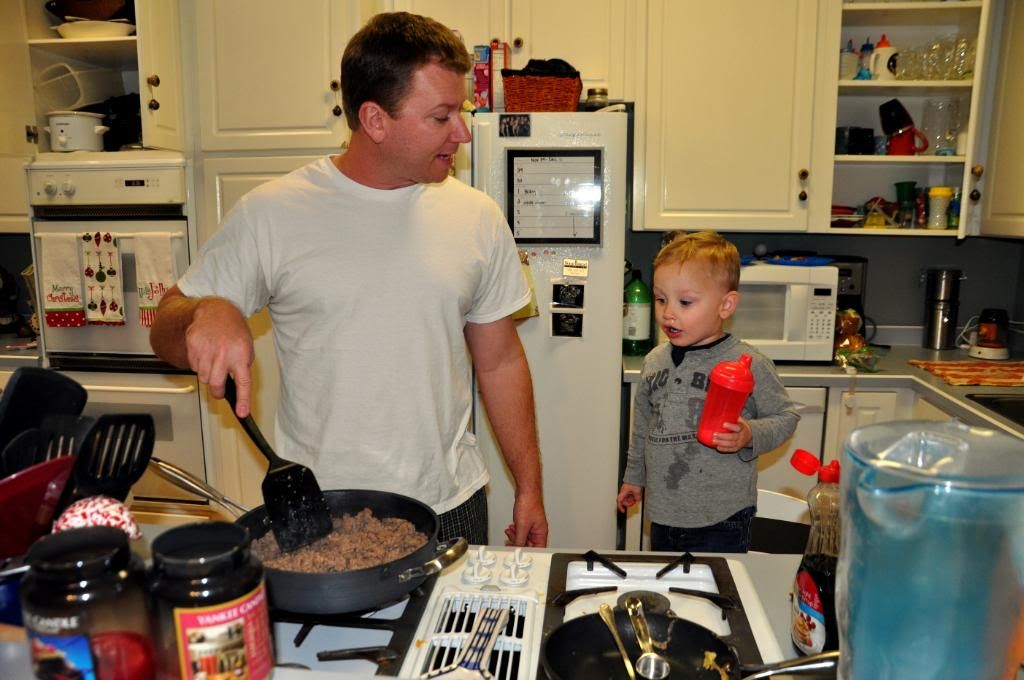 Oh how they LOVE the Christmas tree. I cannot wait until Christmas morning this year!!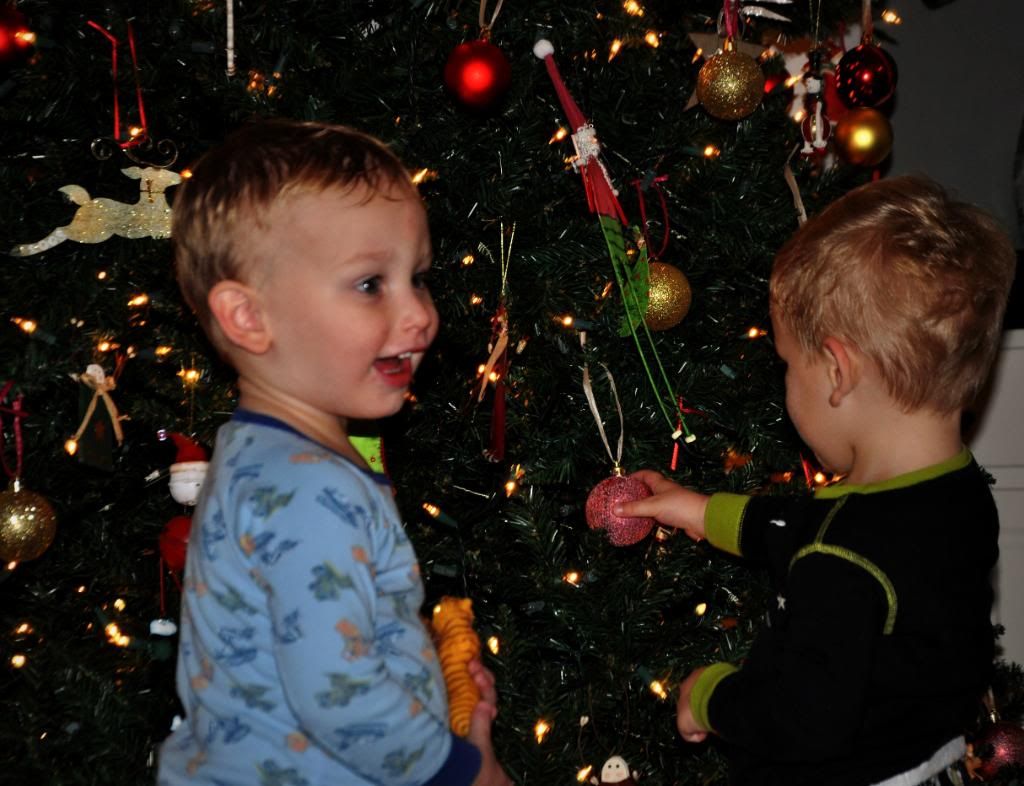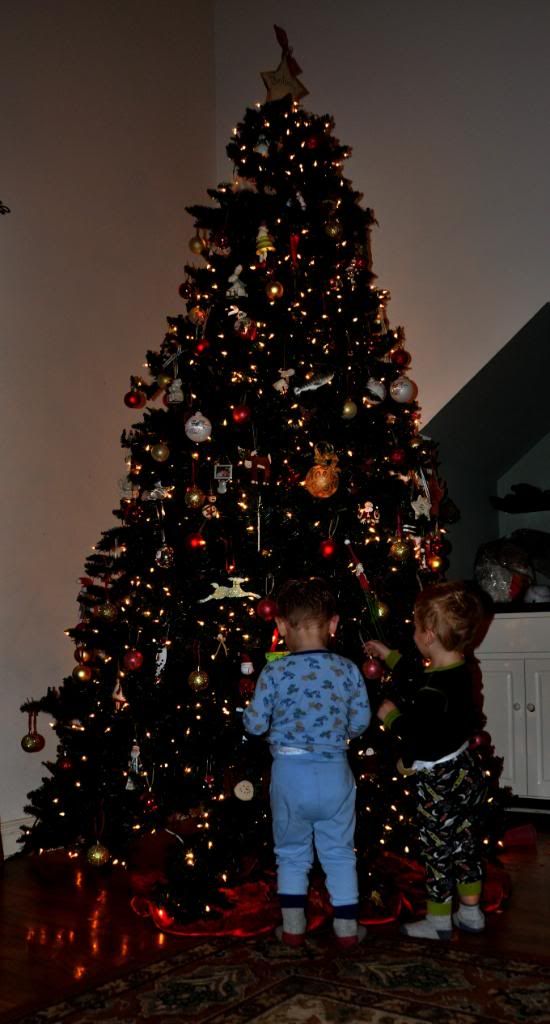 Last Saturday, Nana and I took the monkeys to the Destin Christmas parade. Ended up watching it with half of kids in their school and their parents! Grayson and Cooper's Dad backed his truck right up to the edge of the parade...it was a great area to keep all of the kids locked up safe in!



At one point, the boys and Roland thought it was more interesting to check out every inch of the truck, rather than socialize. Such boys.



The parade started off with loud sirens, from police cars, ambulances and fire trucks. I thought for sure that the boys would be super excited to see all of them close up...but they ended up a little scared and were not big fans of the loud noise. While everybody else ventured to the curb and remained there for the duration of the parade, the Harrell boys hopped their little hinies right back in truck and remained quite comfy on the tailgate.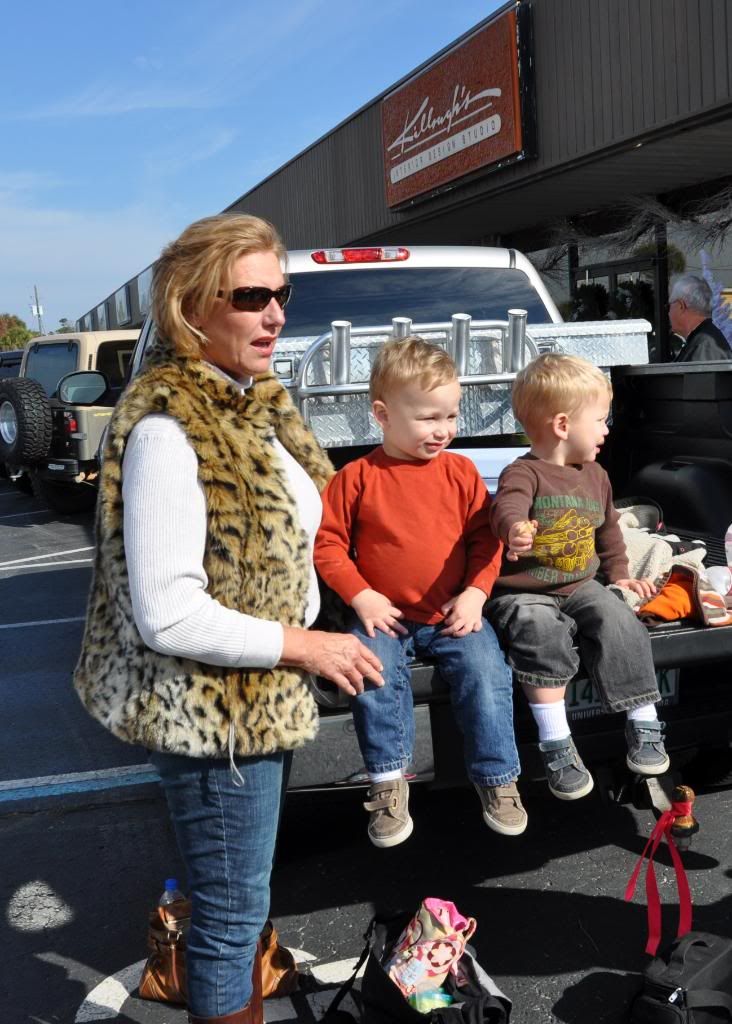 Saturday night, we enjoyed a date night with Gator and Nana and attended our annual Christmas party, the Holly Ball.

All dressed up and kid free: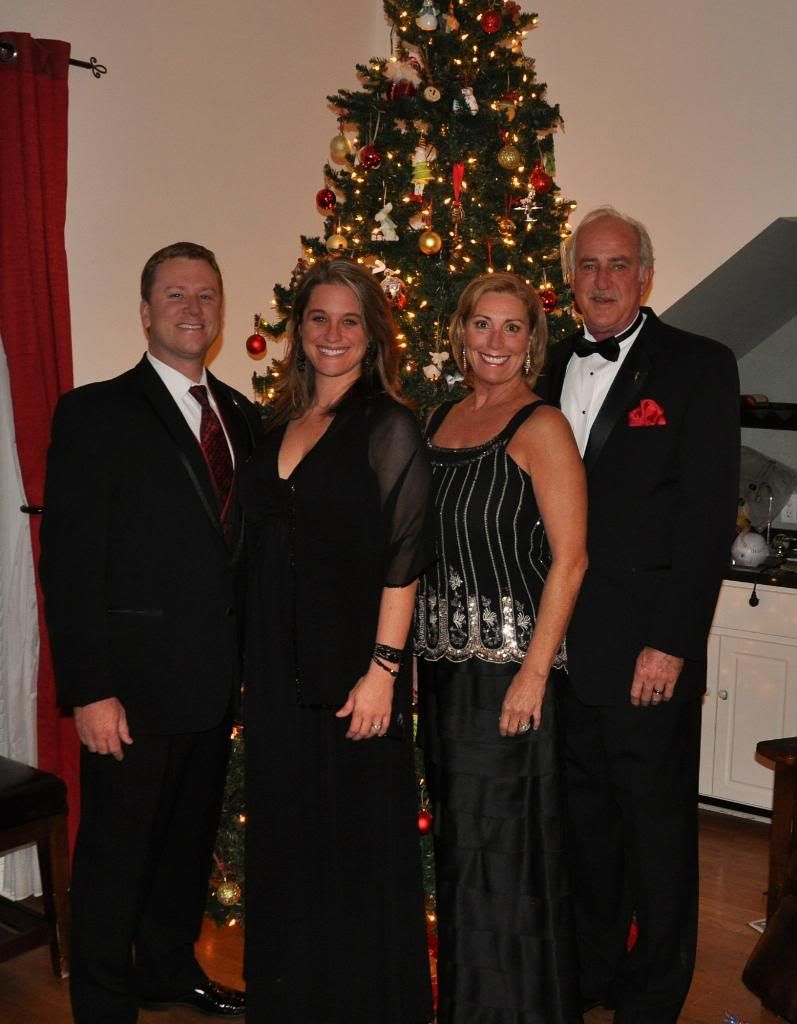 What happened 2 second later...real life!!!!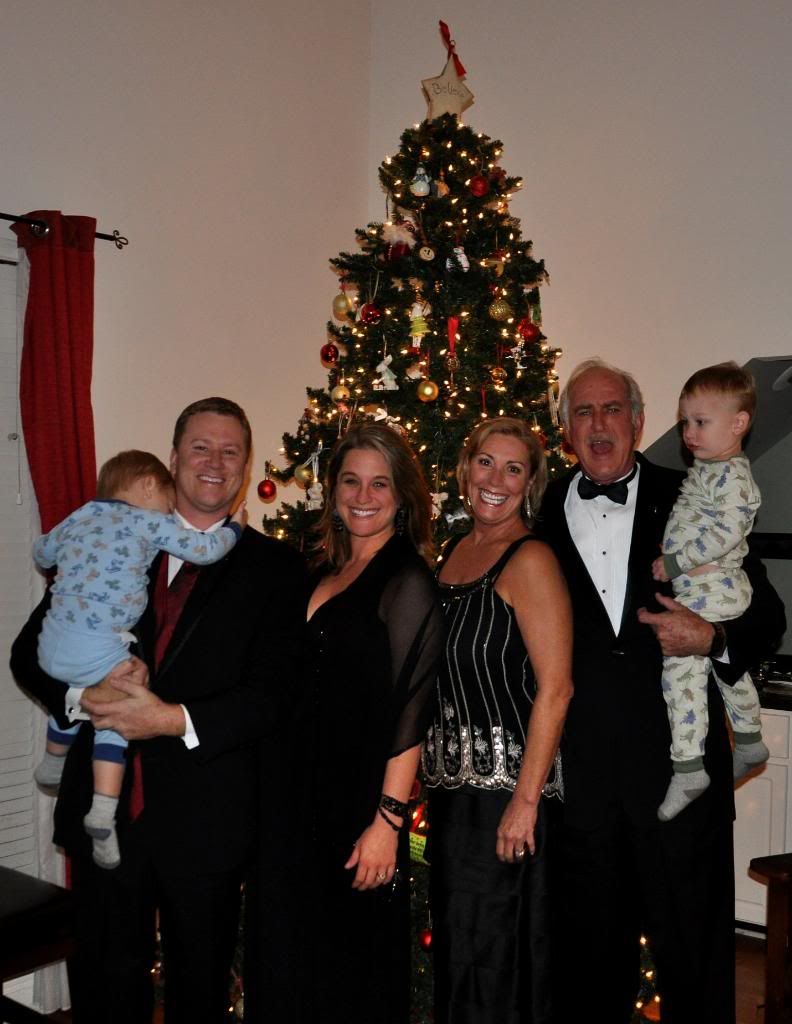 And we were greeted by a beautiful white Christmas in our front yard, upon arriving home later that night. Our friends got us. Let me just assure you that Todd is out for revenge and he knows where each and every one of you little hoodlums live. (The pictures do not do their work justice. 18 rolls of toilet paper were used, creating this masterpiece!)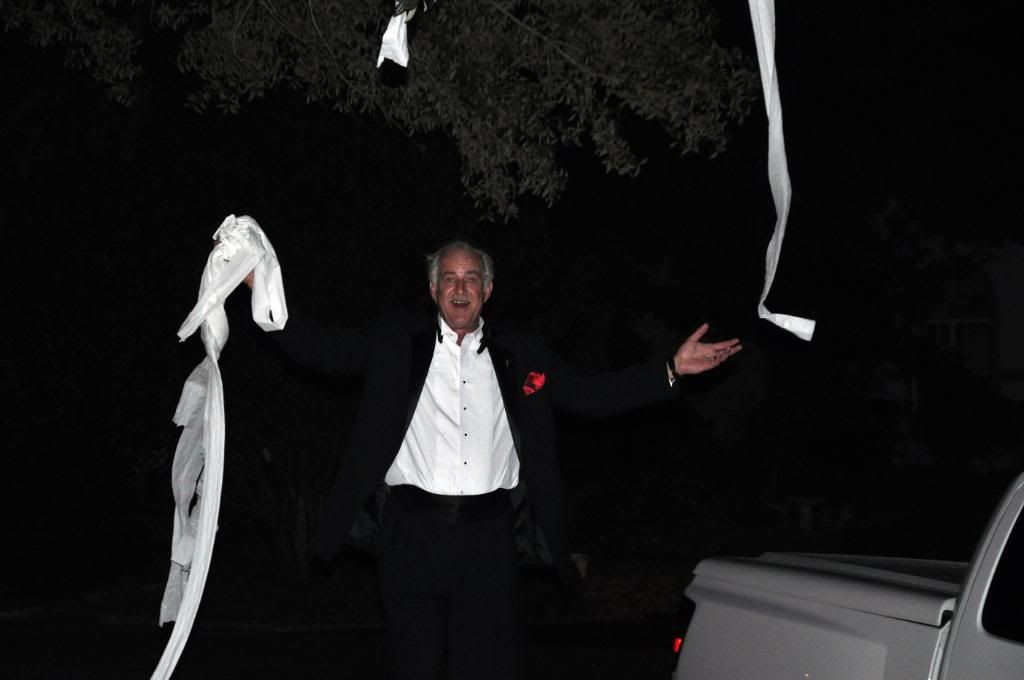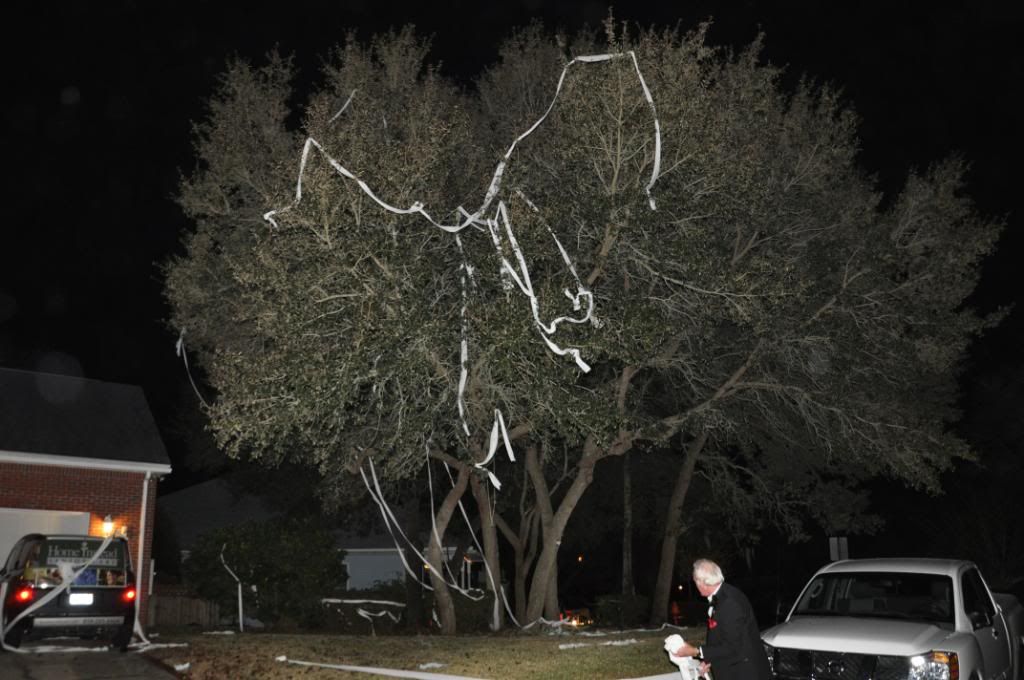 The Christmas stories and traditions have begun...9 days until we get to see our boys' come down the stairs, in their little footed jammies, and watch that gleam sparkle in their eyes...once again, capturing the magic of childhood that I now live for. Santa Rocks!