I normally take tons and tons of pics while Aunt Lowie visits, but this time, my camera only made an appearance on just 1 of the days! Nana and Aunt Lowie booked a camping site out in Grayton Beach for Saturday night, and the two of them, the crazy sisters, pitched a tent, made a fire, grilled lobster tails and had a ball! (Every other site was occupied by an RV...they were the only ones that had a tent...ha!) We drove over to meet them Sunday morning for a good old camp fire breakfast and a quick trip to the beach...
The boys had a blast, collecting rocks, exploring the tent, watching the fire pit and eating bacon and eggs and biscuits...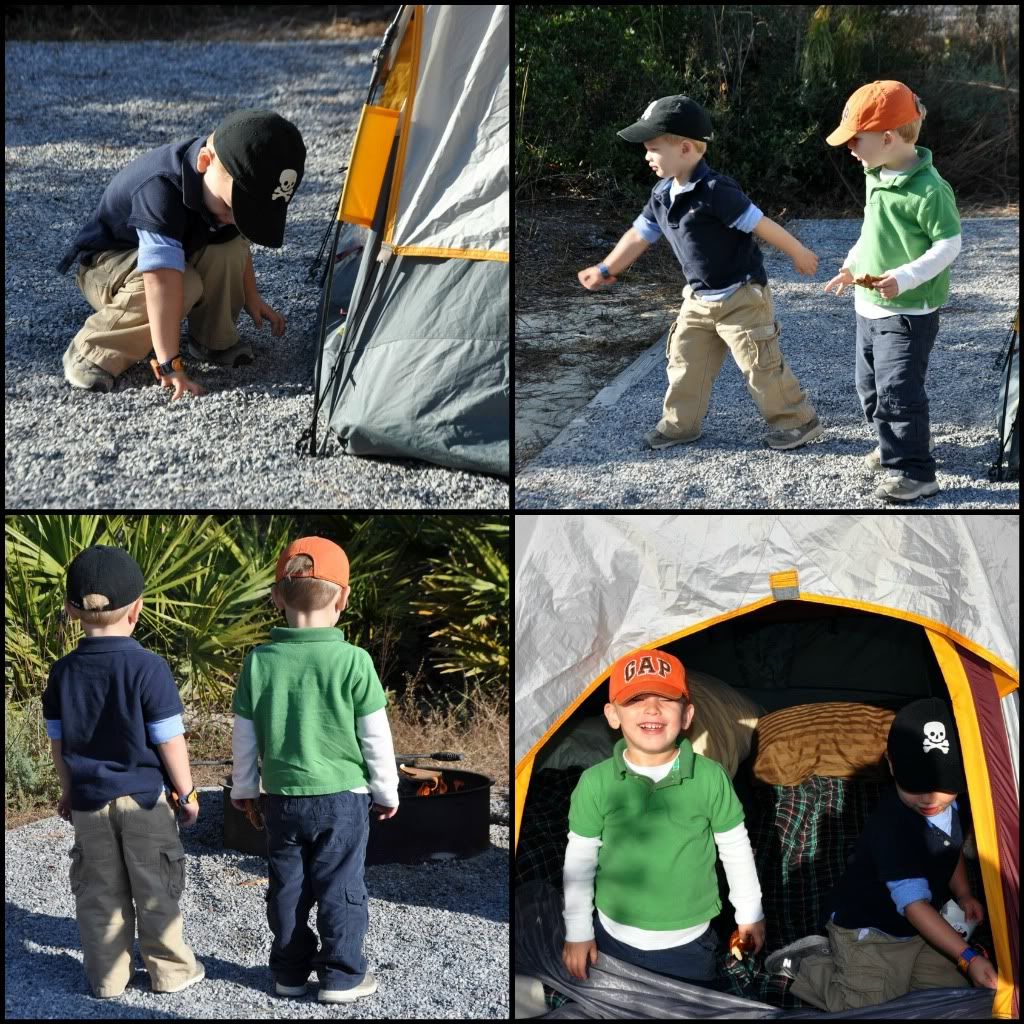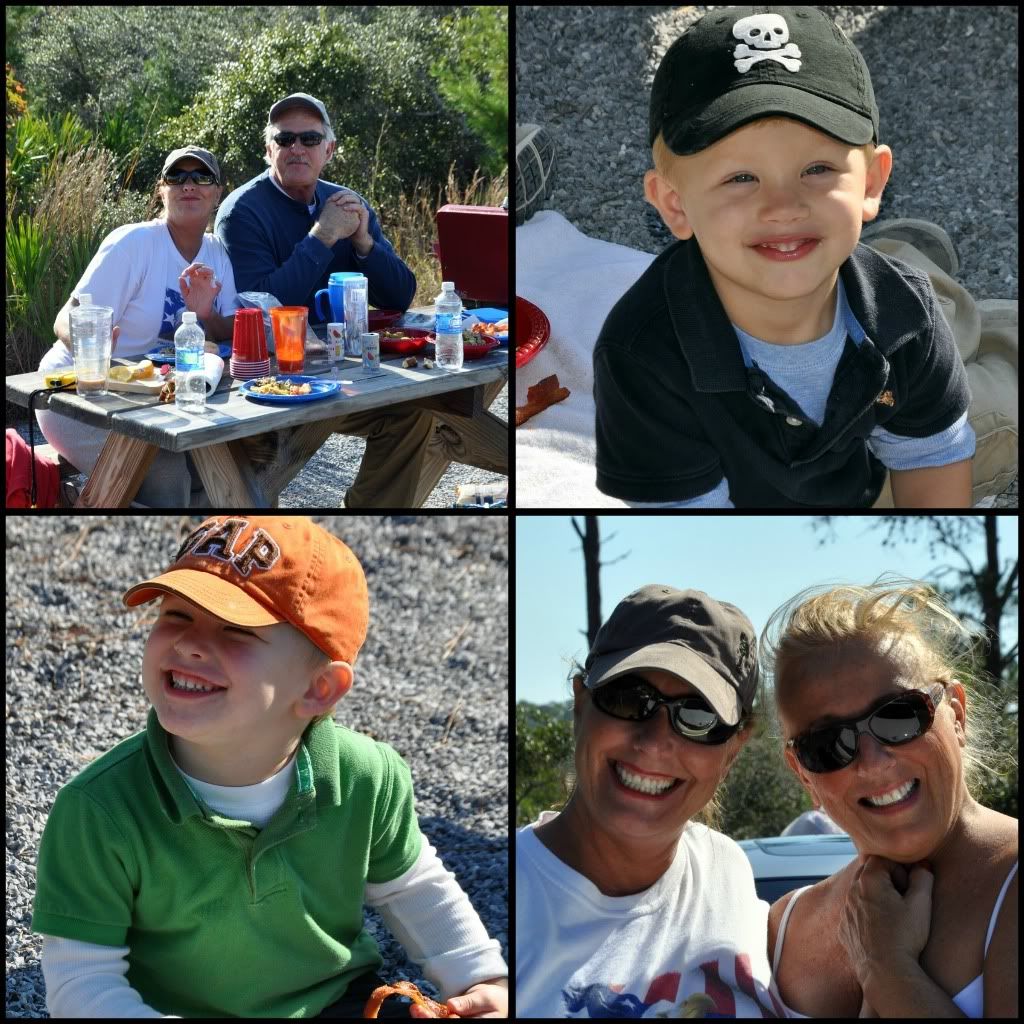 We all loaded up into the van and took the 3 minute drive to the beach. Give a boy some space and he will run. And run. And not come back. hehe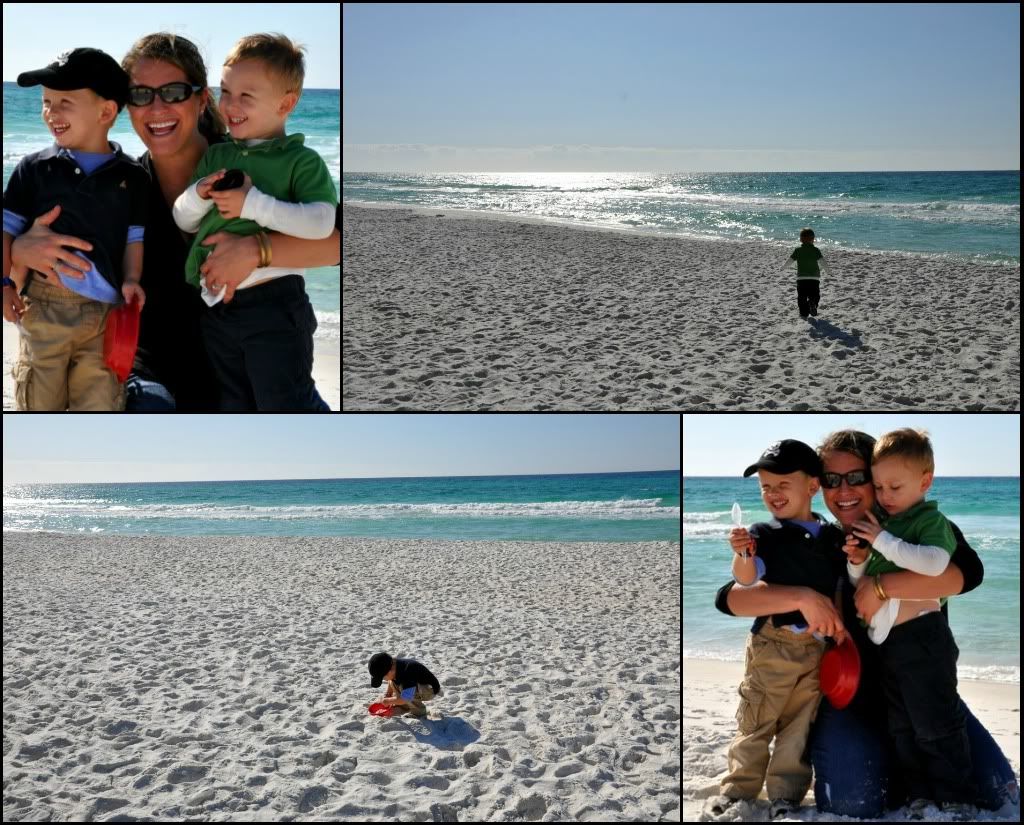 It is always so wonderful to see Crazy Aunt Lowie. The love that she has for our boys, pours out of her every single second. We are so lucky to have her in our lives...wish she lived here! Until next time Low!
Besides our little jaunt to Grayton, we had another uneventful weekend. Guess that is par for the course these days...but I wouldn't trade it for the whole wide world.
Jack's first tooth has finally popped through! Little guy was pretty miserable and wanted to be held the majority of the weekend, which I gladly obliged... :) We also discovered, that just like his big brothers, he is not fond of cereal or oatmeal, but prefers the good tasting stuff, like sweet potatoes! He ate almost a whole jar last night...Speaking of jars, Lowie gave me my birthday present early, as it was a baby food maker!! I have actually always wanted to try making baby food, but to be honest, I just did not have the time with Brody and Wade. Now that I have the actual machine thingy, I have no excuse! If you are interested, click here:
Kalorik
(I think it will be fun to have Brody and Wade help me make Jack's food!)
Not only does he have a tooth, but he is starting to sit up, is rolling all over the place, is extremely ticklish by his neck, loves to watch his brothers and continues to melt my heart every single second. He remains very low maintenance, has sparkling blue eyes and his smile lights up a room. His brothers love him so very much...

The B-man is STILL testing every boundary..........and spending lots of time in time out, to re-think his actions, exclaiming the entire time, "I will be nice! I will be nice!"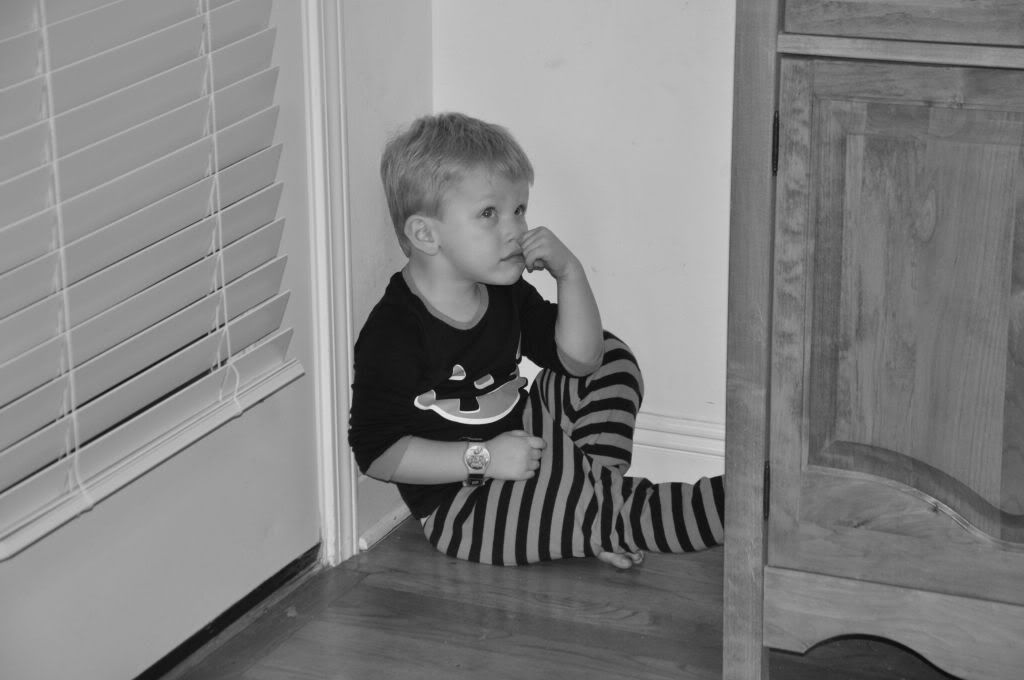 He is such a sweet boy, very tuned into to every one around him...very perceptive and smart as a whip. Can hold intellectual conversations, well...for a 3 year old anyway...he is loving, silly and stuborn. He would eat yogurt with every meal, doesn't understand why he cannot have skittles for breakfast and prefers milk over any other beverage. He is always the first to think of others, always wanting to get an extra for his brothers or his daddy. He can be manipulative, but in an innocent way. He will give Mommy and Daddy kisses and hugs all day long, but makes everyone else work for it. Brody can shoot a three year old free throw consistently and could spend hours playing baseball with Daddy. Brody becomes very attached to objects, ie. his bear, his dog, his watch, his goggles, but is always willing to share with Wade. He loves to tell everyone how to do things and is the loudest child in the history of kids. He is lovable, silly, goofy, intelligent, persistant, bossy, a natural born leader and will steal many hearts in his lifetime...
I do not happen to have a pic of Wade in time out, but trust me, he has spent his share of time thinking over his actions recently, as well! I do, however, have a few sweet pics, and one of him doing a puzzle. He is a whiz when it comes to puzzles. He amazes Todd and I with his patience and determination with putting them together. He can do a puzzle that says 'ages 8 and up' together within a 4 minute time period. We know this cause we timed him!

Wade is sensitive soul, a very picky eater and full speed ahead. He is intense, patient and does not seem to do well with change. He remembers EVERYTHING and is extremely bright. He would eat pringles pretzel sticks for every meal, despises chocolate and veggies and chugs all of his drinks. He is organized, and everything has to be just so. He is the class clown, and can at times, be the leader, as well. He can jump high, run fast and is quick on his feet. He loves to run the bases and slides into home plate. He is tender, a quick learner, fast, smooth, smart, determined, charming and will steal many hearts in his lifetime!!