A little video to get started!
Update on life since the tubes and removal of the adenoids: Wade bounced back from the anesthesia very quickly and was back to being crazy by the afternoon following the surgery. We have noticed that he is hearing things that he apparently could not hear before. That his speech is coming out clearer. He now says "Brody" instead of "Bro-Bro"...and "Mommy" instead of "Mama"...We also find that he gets frustrated when he cannot tell us what he needs...it is almost as if he is learning to speak all over again. We are taking our time and really trying to pronounce all words clearly, sounding out each syllable, focusing on a couple of words a day. He continues to improve daily and we are incredibly proud of the little squirt!!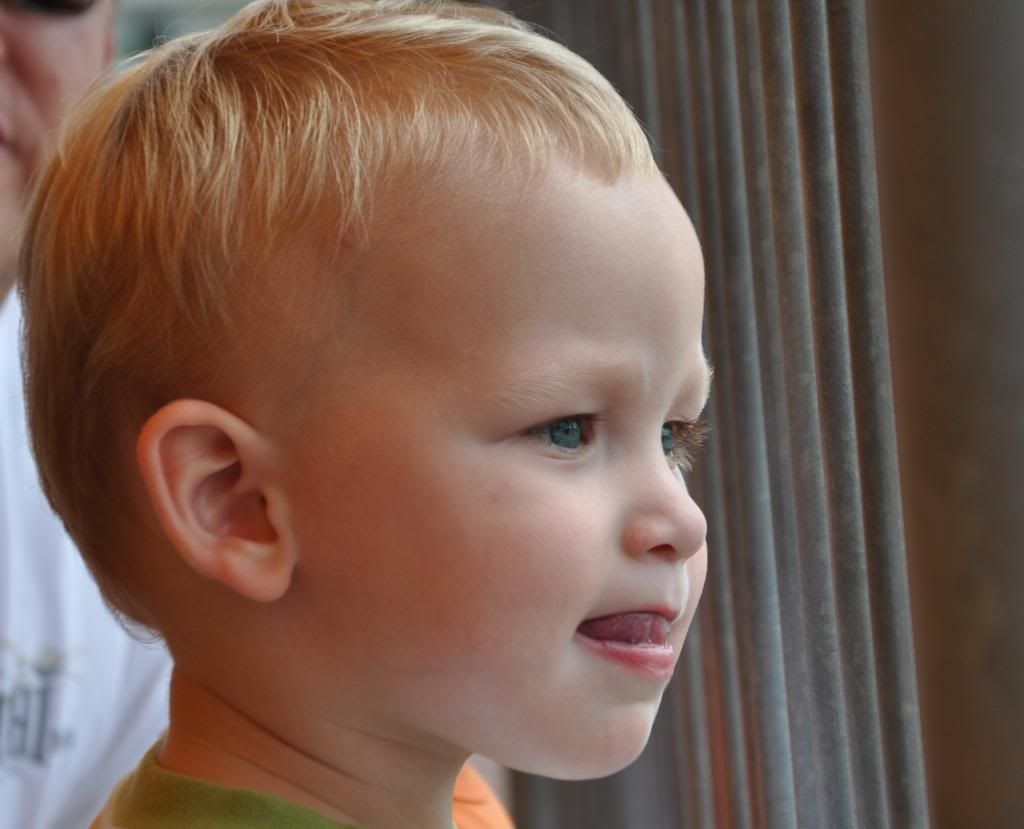 And since our life is so crazy and filled to the brim and out of order sometimes, this blog post will be too. It really is all over the place...no rhyme or reason, just stuff. Just a bunch of jumbled things that we have been doing and what the munchkins have been up to!
Doctor's orders require that we try and keep water out of W's ears for about 2 weeks. After that, resume life as normal...thank God because the child will not wear ear plugs. We tried and we were not successful. Dr. Boole did say that if water does get into his ears, it needs to be clean water, meaning coming directly from the shower head or when washing his hair in the bathtub, to run clean water to rinse it. So, we have decided, just to be safe, to give the boys showers instead of baths for the time being. They love to stand with their backs under the running water and tilt their heads back to wash the shampoo out. They also love to watch themselves pee!! It is pretty funny watching these two grow up...all the little things in life that we do, day in and day out, are so new and exciting for them. They literally shriek with enjoyment every time they go pee-pee...it is almost like they are proud that they made the pee and that they have control over getting it out. Cute pics taken after our nightly shower adventure: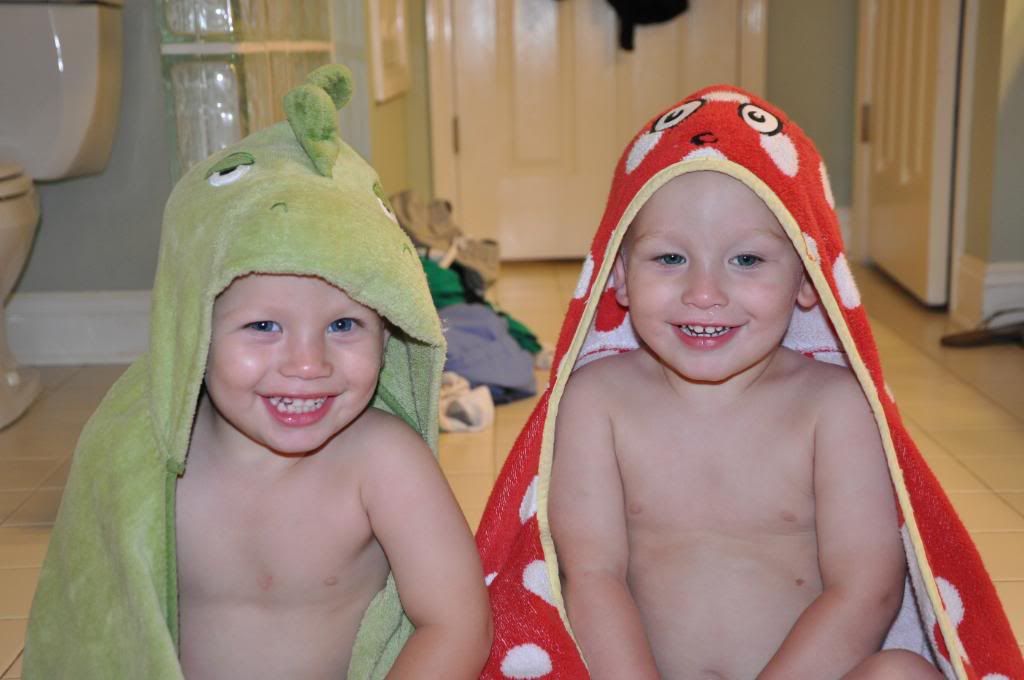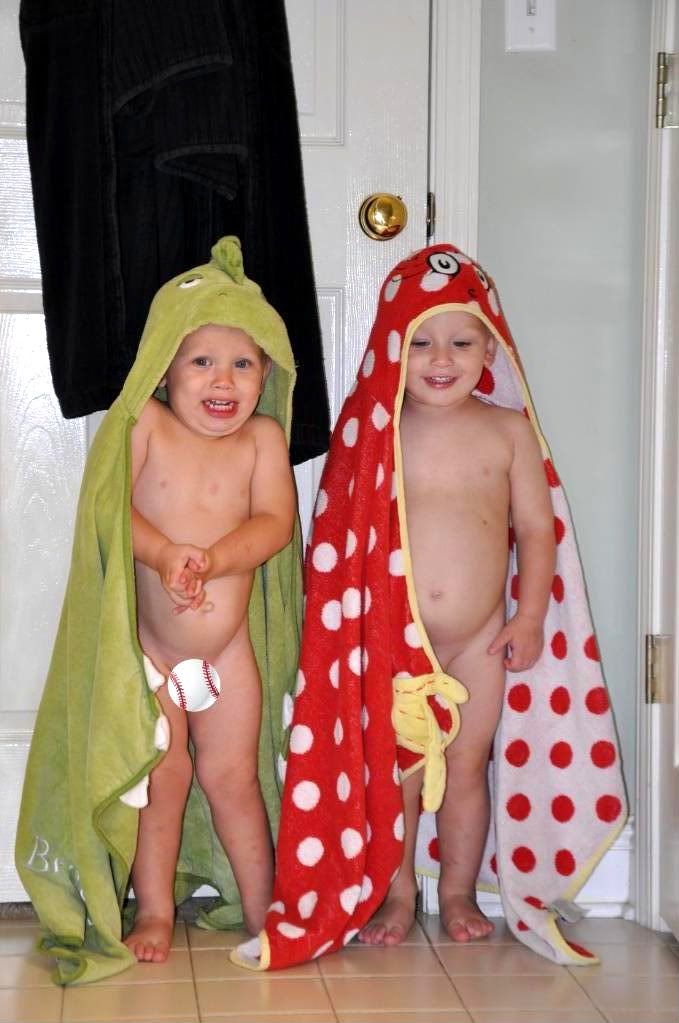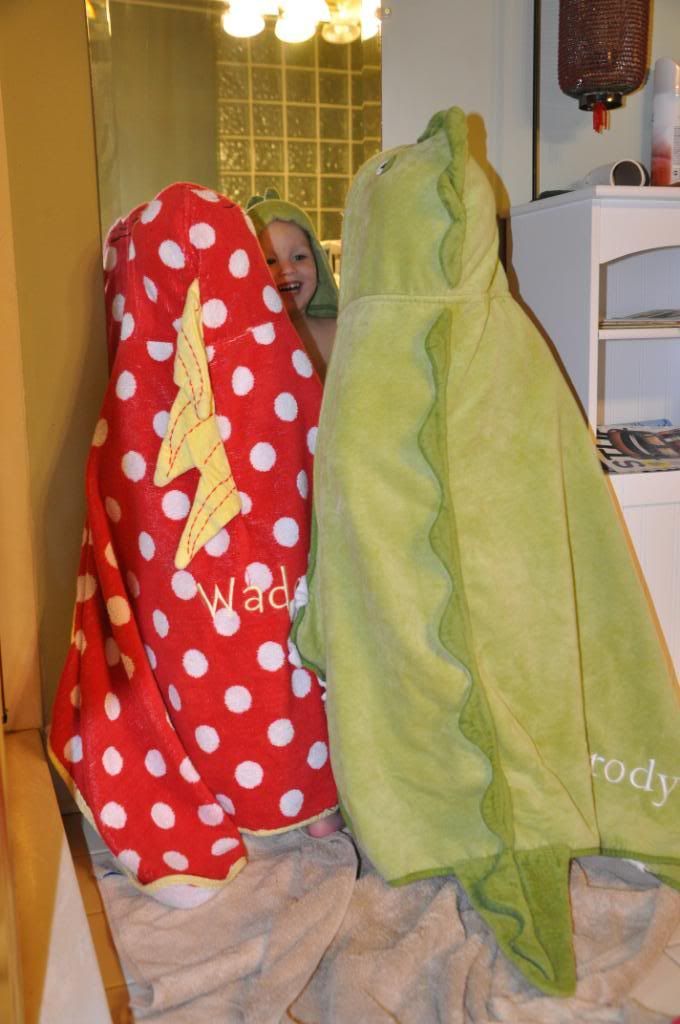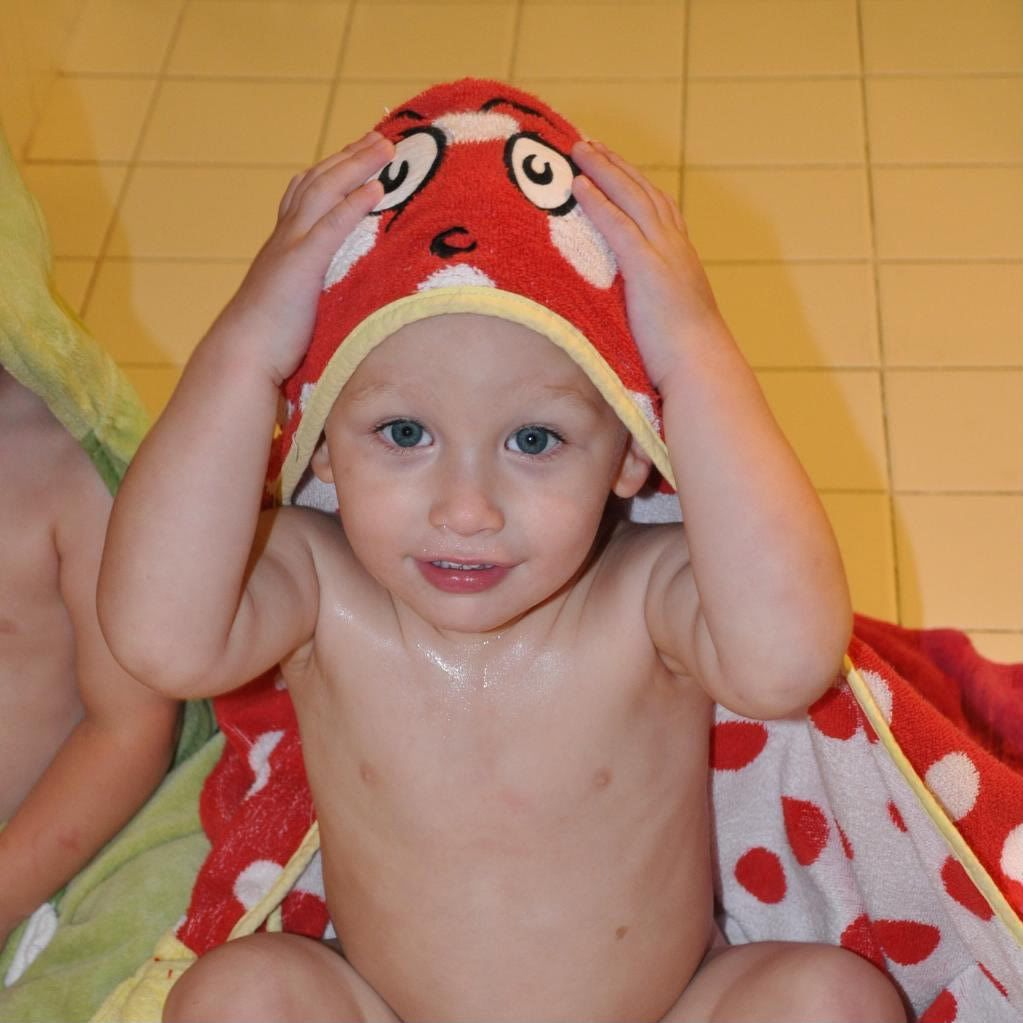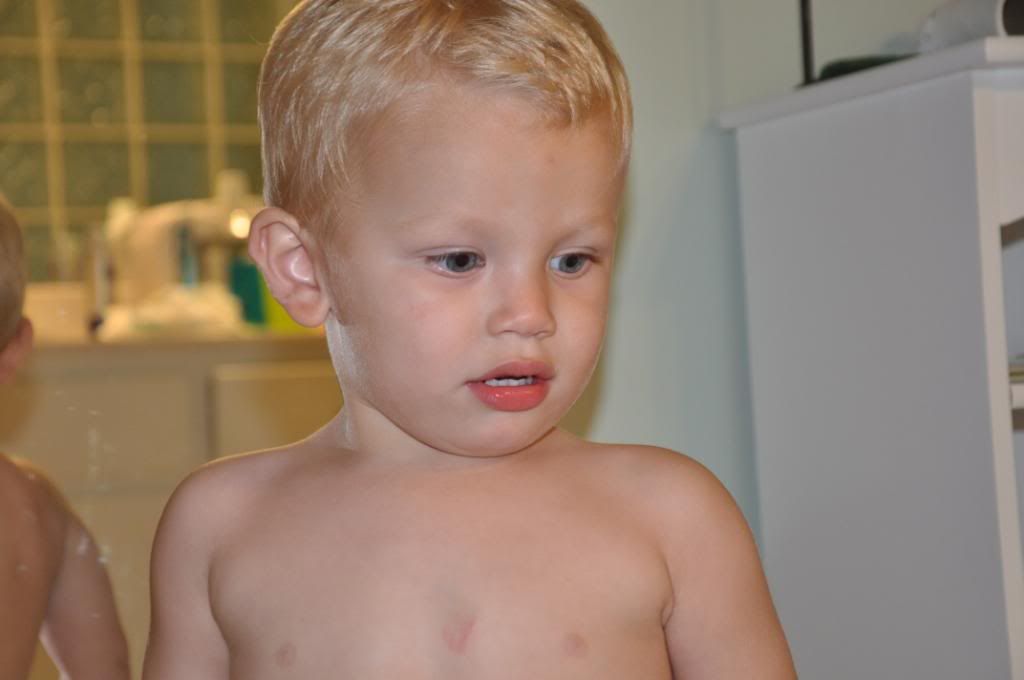 and this picture of Wade cracks me up...!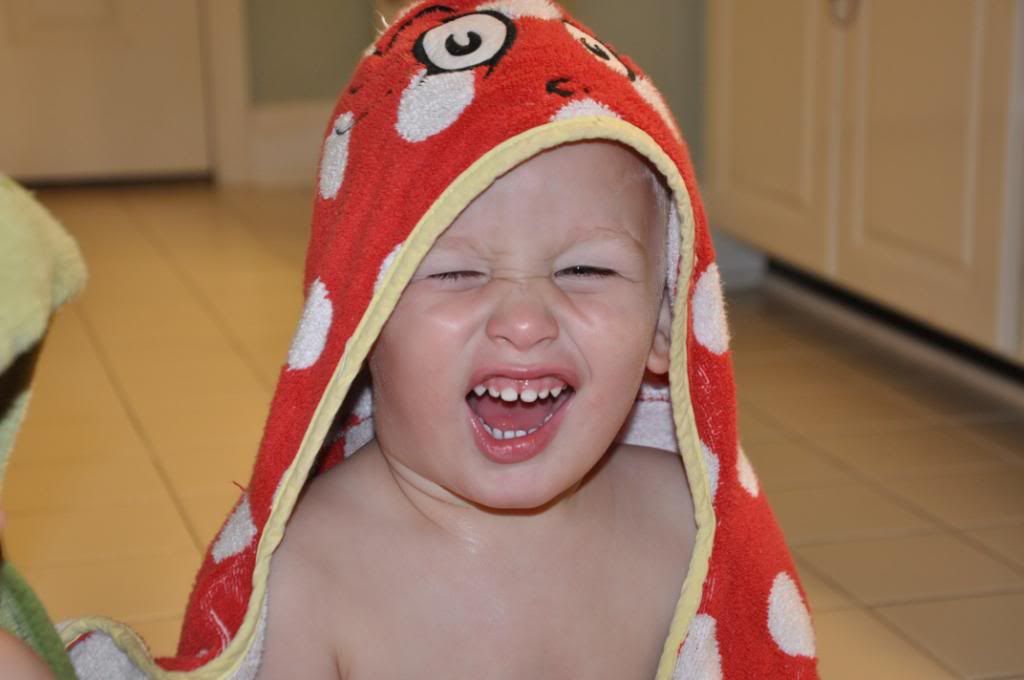 We were plagued with the stomach bug that took over the boys school. Yuck. 3 days of tummy issues, 3 days of no school and 3 days of MAJOR cabin fever(felt and experienced by the entire family). The stomach bug also forced us to cancel the visits from Harrell clan that we had planned for the weekend...better safe than sorry! We were so looking forward to playing with cousin Caden and catching up with Scott and Allie...and Grammie and Pop's were even going to come and stay. Planning our visit for later on in August :(
Wade needed medicated ear drops following his surgery...he tolerated them pretty well, but before putting them in his ears, both B and W felt the need to "make the dogs ears better"...and pretended to put ear drops in Miller and Buck's ears. Too cute.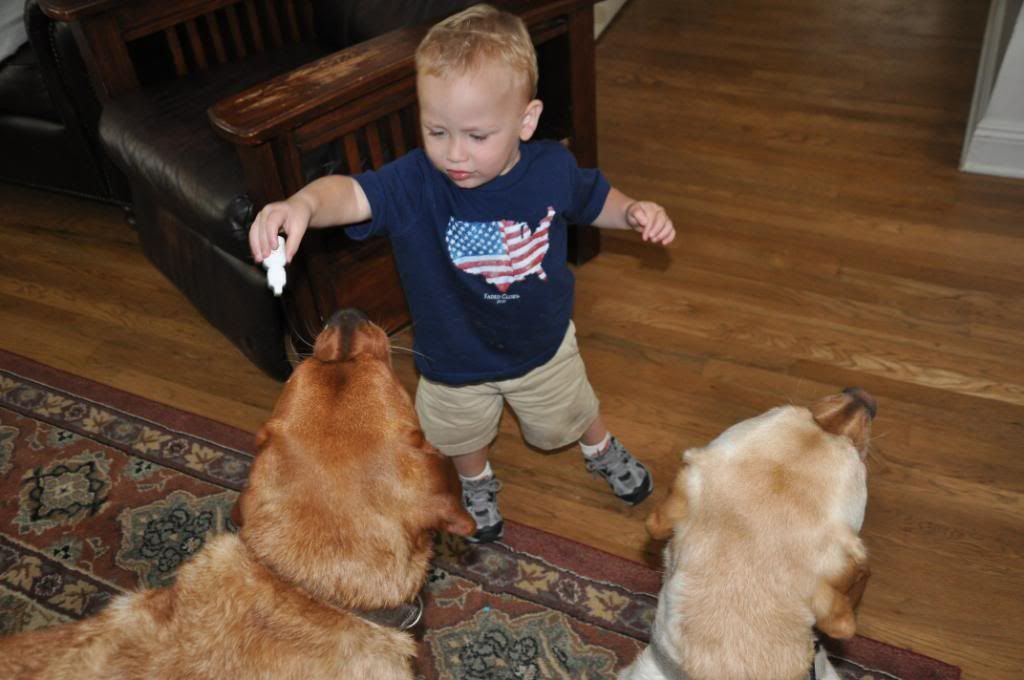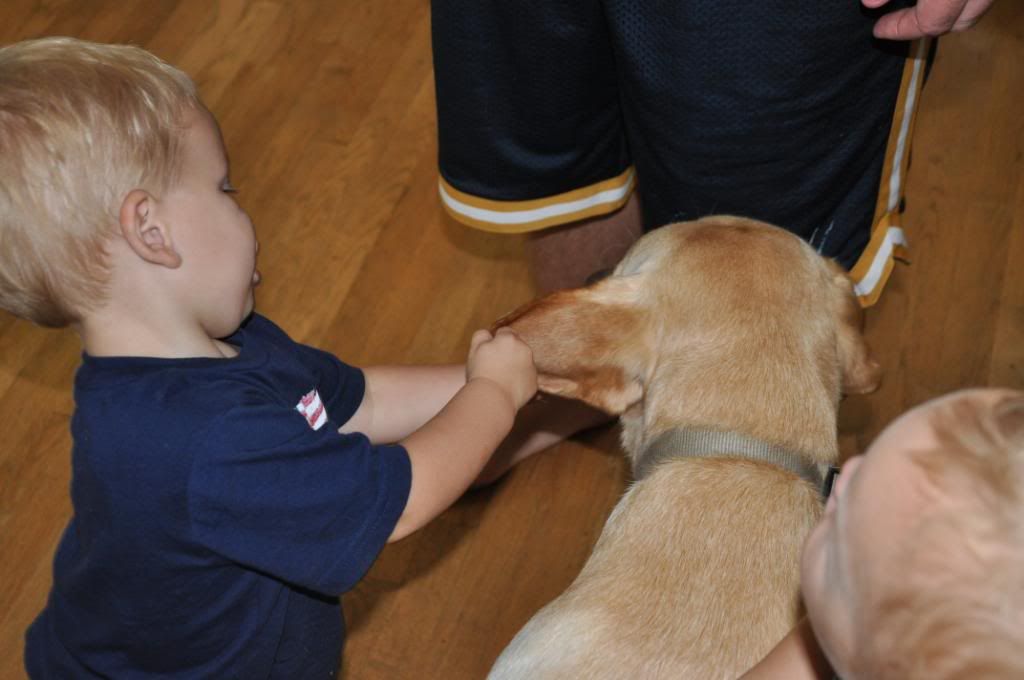 They experienced the zoo for the first time! Nana and Gator braved the scorching sun and ridiculously humid weather last weekend and went to the Gulf Breeze Zoo. They had a wonderful time, but learned a very important lesson: The zoo is enjoyed much more in the winter months :) They were able t o see birds, llamas, a tiger, giraffes, monkeys, turtles, sheep, goats, etc... The especially loved the petting zoo and Wade said "Hi" and "Bye-Bye" to each animal and every person that walked passed them!! (Thank you Nana for the pics!)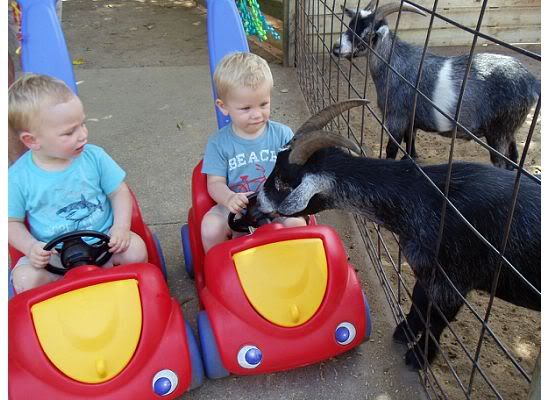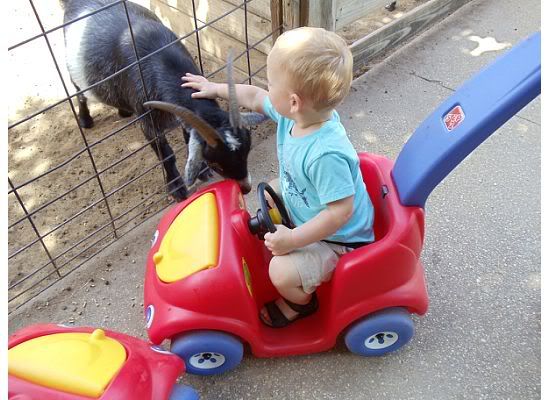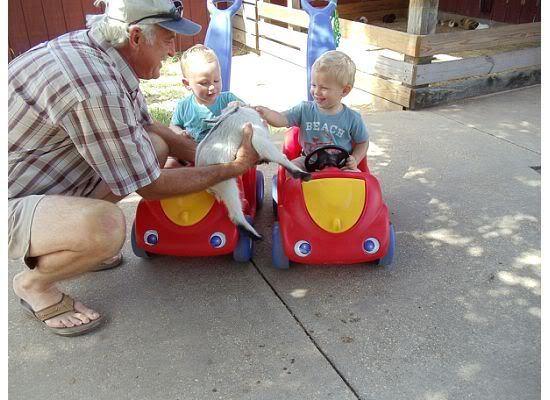 Daddy has been taking them to the baseball and soccer fields to let them run and play in the wide open...They love kicking balls, throwing them around and chasing their Dad. He has even taught them to pick the weed thingies and put them in their mouth, like he used to do as a child. (If you have ever "chewed" on one of those weed thingies...you get it. If not, I tried my best to explain, but I probably failed miserably and you think we let our kids chew on grass...)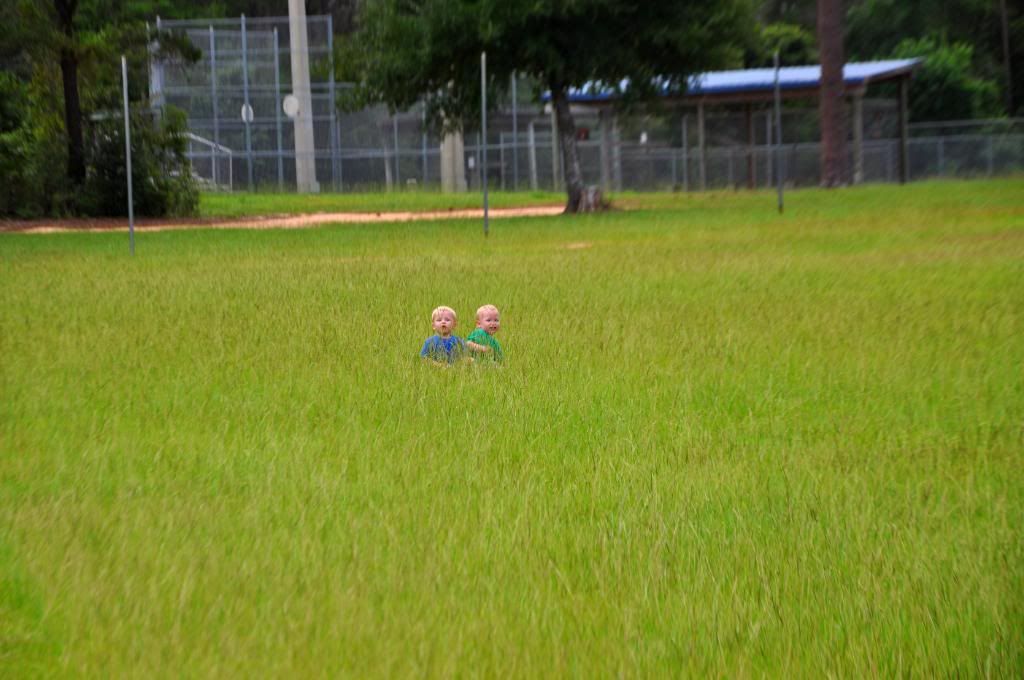 They are still pretty fascinated by fish...actually all animals, but we recently put fish up on the wall behind their cribs, which is a huge hit. The Hipsh's also passed down a fish tank toy that plugs into the wall and the fish and turtles and sea life go round and round. The first time we plugged it in, Brody was very perplexed at the contraption and kept asking, "Where are they going?" How do you explain to a 23 month old how something like this works?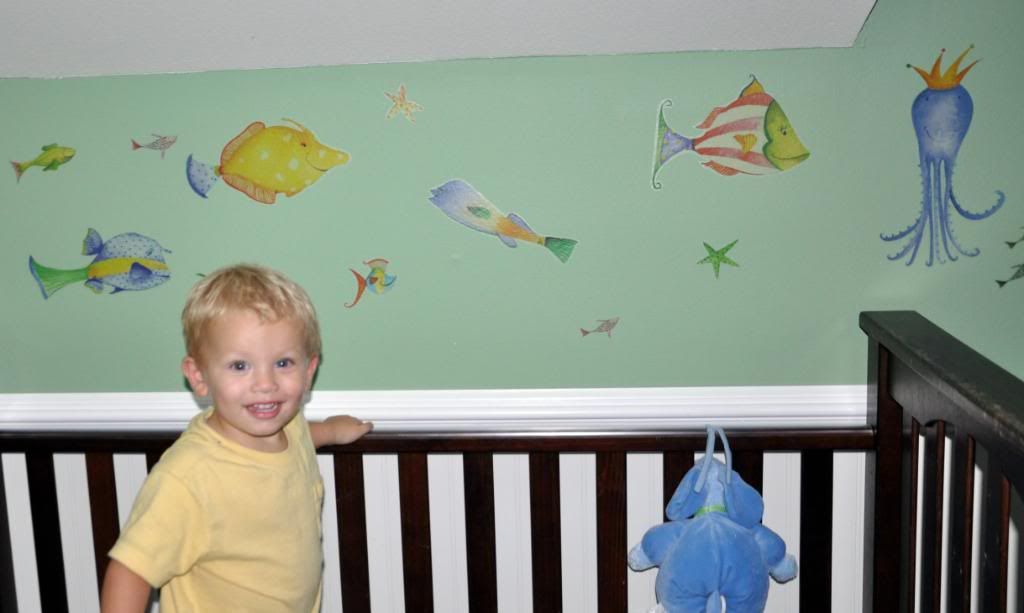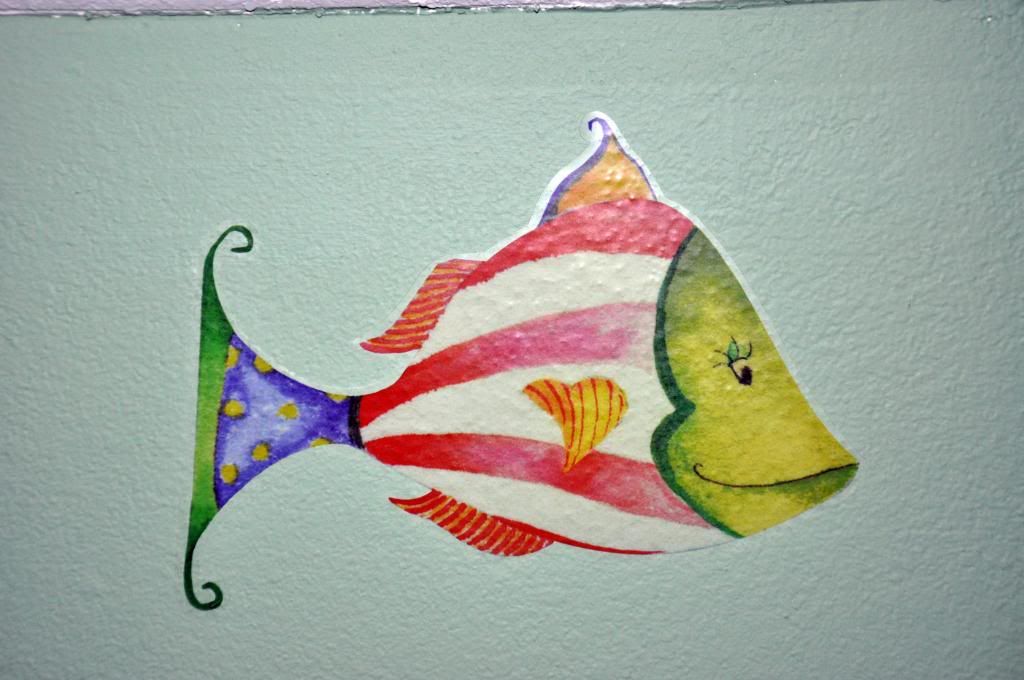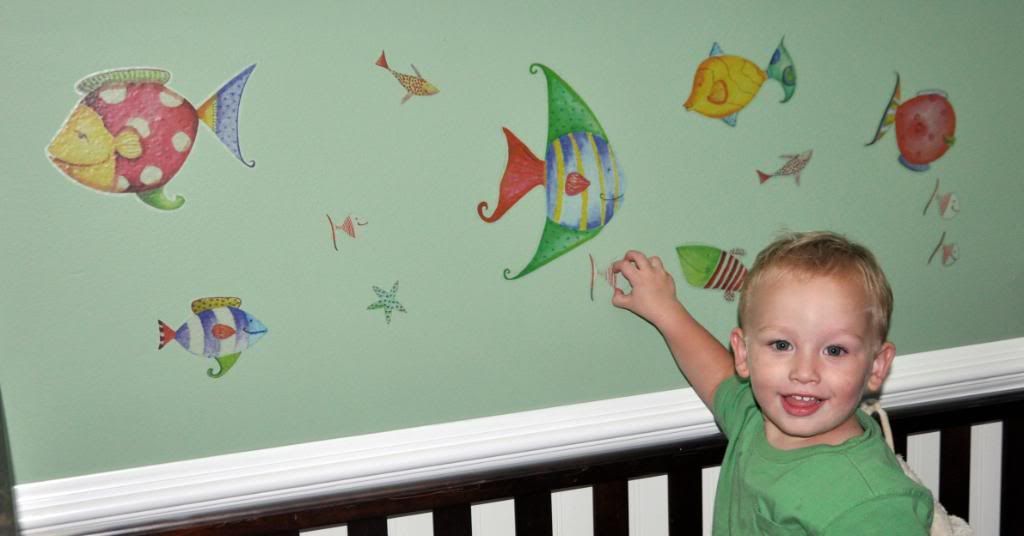 Another recent obsession is their teddy bears. Brody has been carrying around his teddy bear with him at all times. Wade, carries as many items as possible (our little hoarder) his sock monkey, his teddy bear, his sippy cup and this little stuffed doggy. They hug them and kiss them and we even put them in some of their smaller t-shirts. We went from saying nite nite to the metal fish on the wall, to cuddling and loving stuffed animals that have been at their disposal for as long as I can remember. They even pretend to give the stuffed animals food and drinks and take them for rides on their mowers. Guess this is what ya' call a boys makeshift stroller?!?!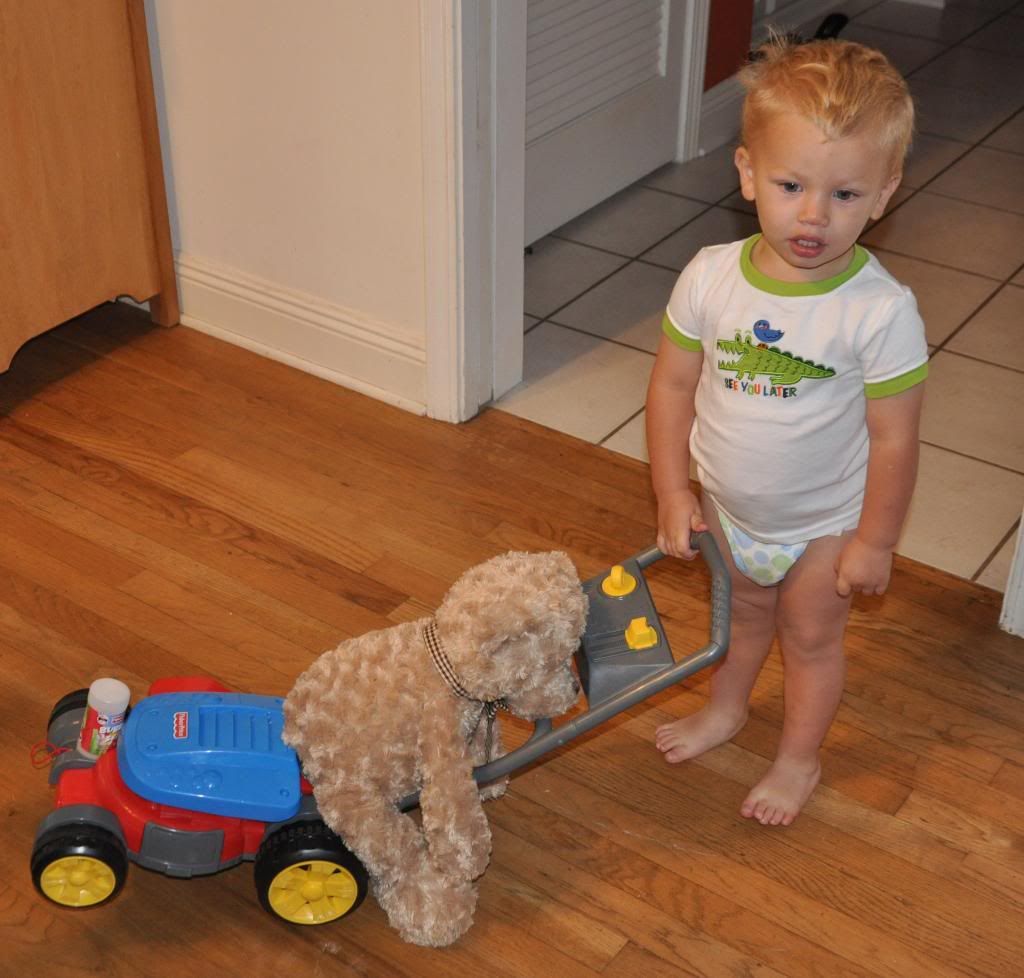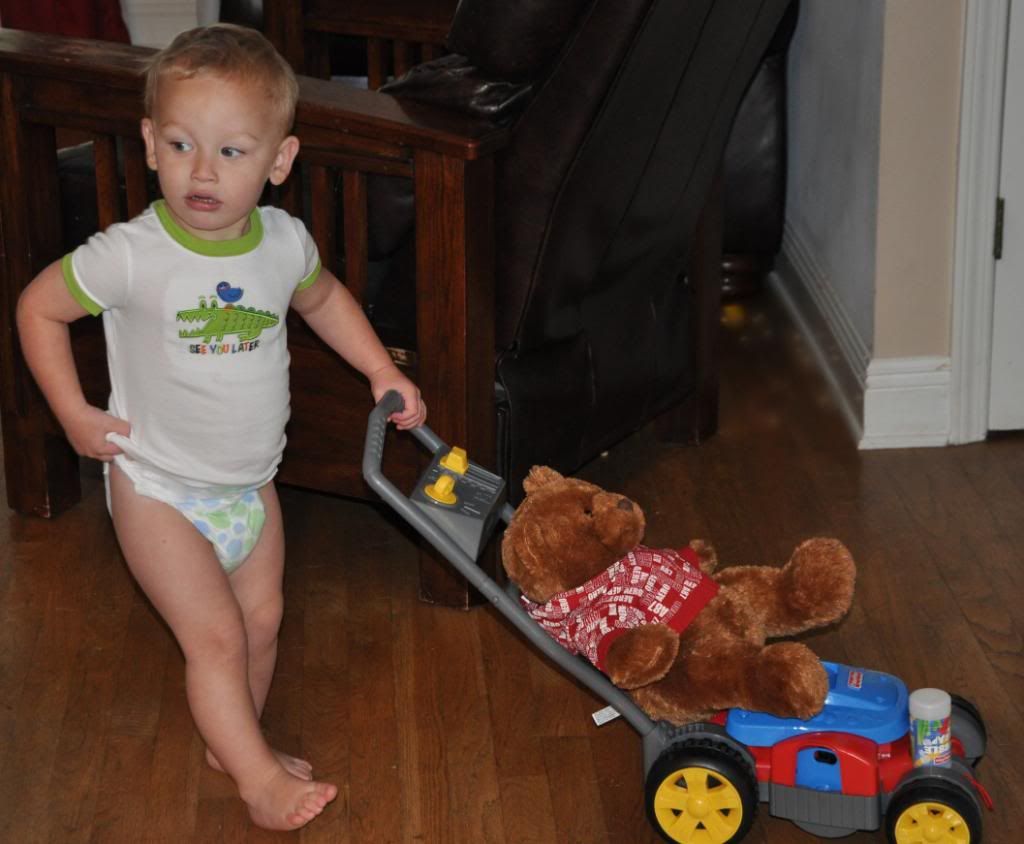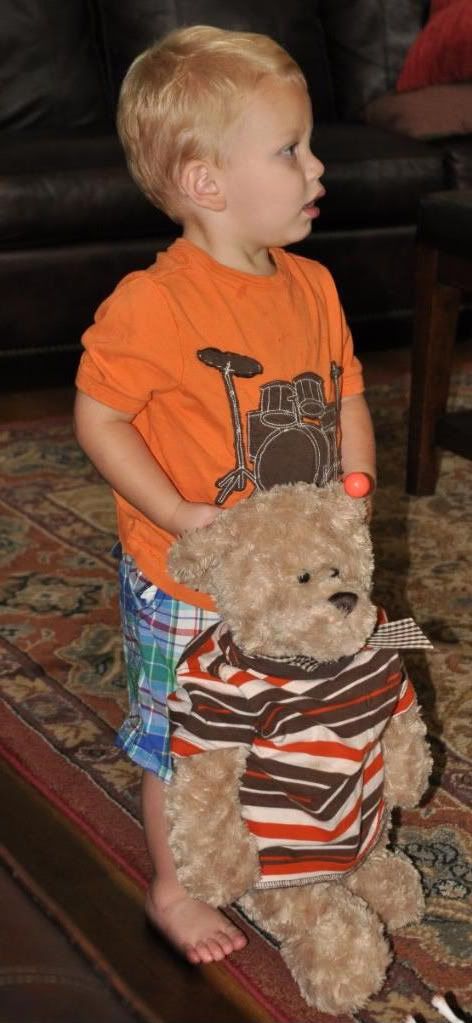 Our excursions and activities are somewhat limited, due to the "No water in the ears" rule...so, we acted like tourists and took the boys to the kiddie village , right past Big Kahuna's. We had to walk inside the arcade to buy ride tickets and the boys were in complete awe of the arcade. You would have thought they died and went to heaven when Daddy actually put quarters in the games and the games moved and swirved and spun around...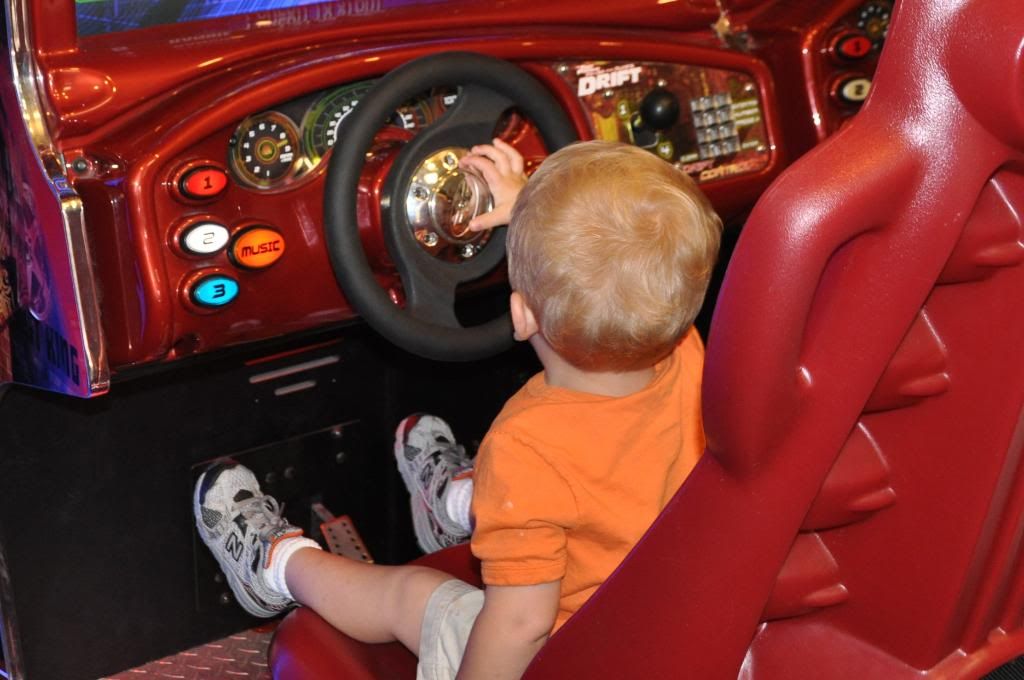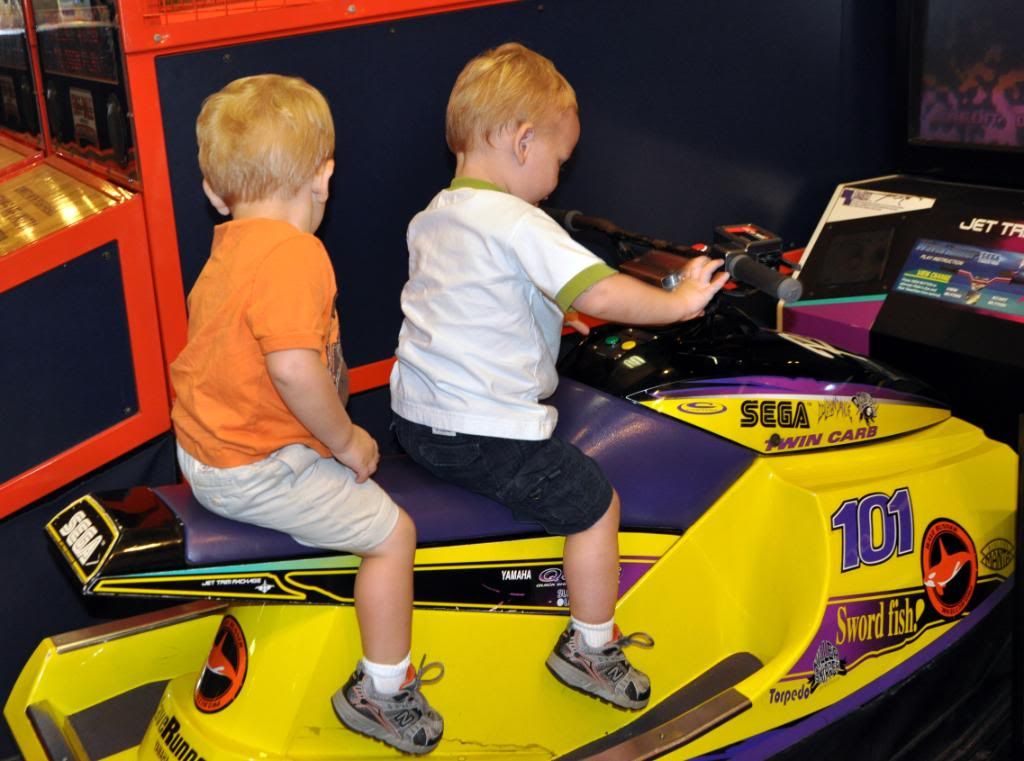 And then there were the outside rides, made especially for toddlers. They rode the electric swing together: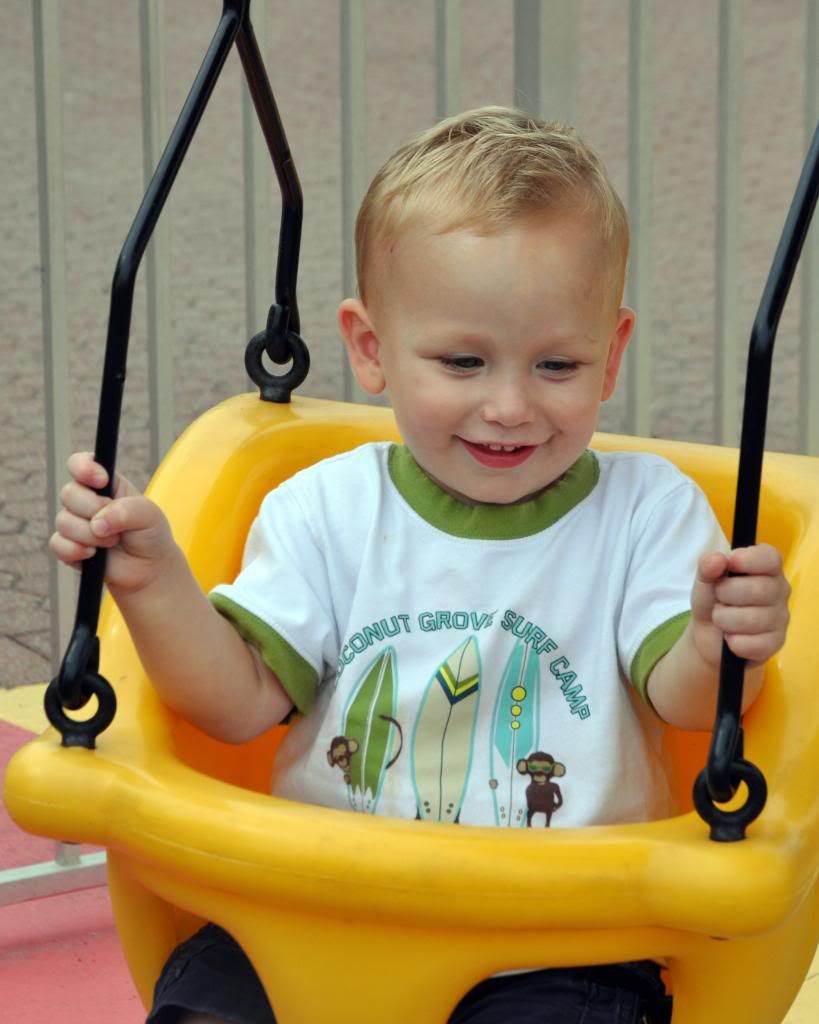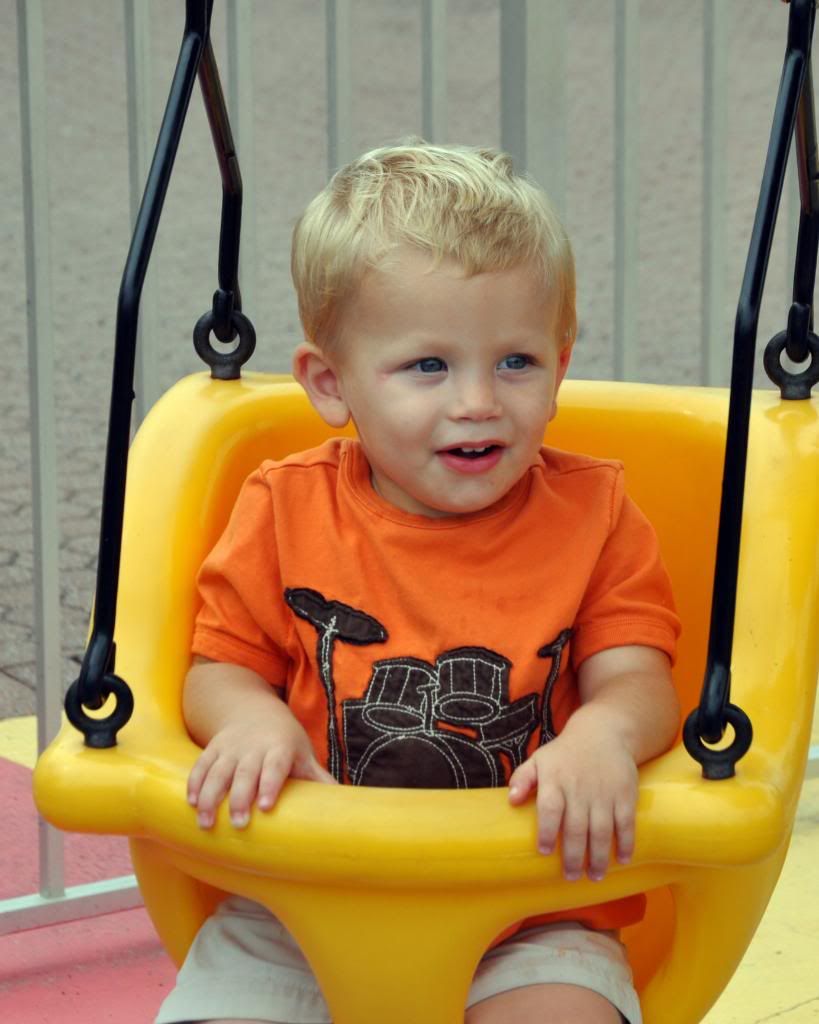 And then, Wade was done. He is not a big fan of carousels, rides that spin or jerk, or go high...that pretty much took care all of the rides left to try:( I too was afraid of roller coasters and spinning rides as a kid. I grew out of it and LOVE rides...the higher and faster and crazier the better! While Wade was content watching his brother, Brody did not waste any time, running up to each ride and basically shoving people out of the way to get on them. He was completely thrilled and loves to go high and fast and spin. We could not get over how brave he was!
Here is is on the spin ride...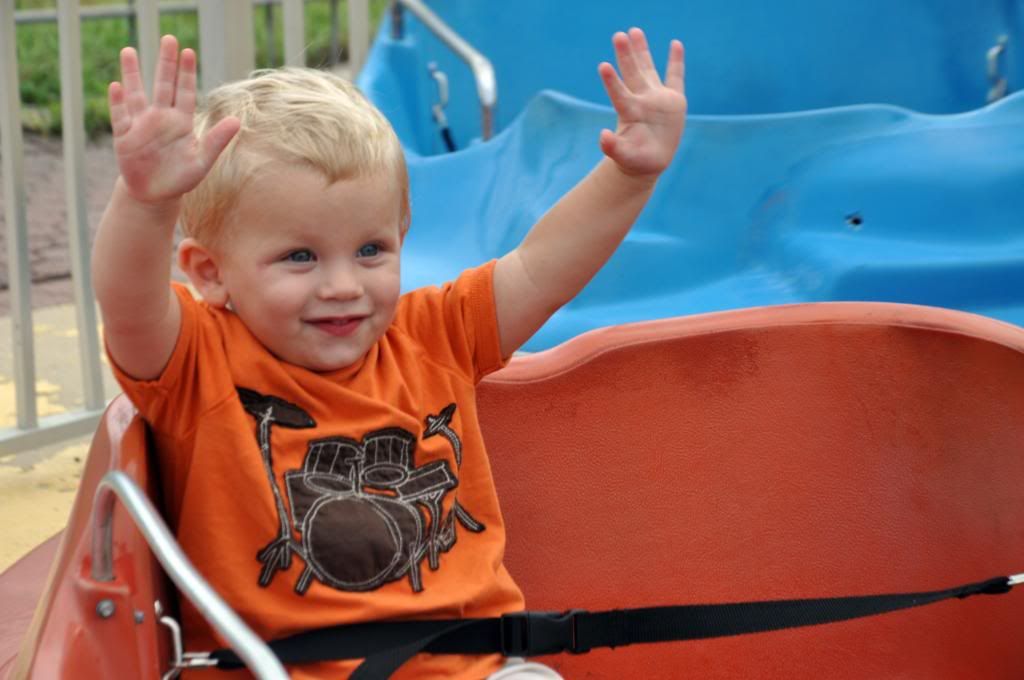 And check out how high this airplane ride is! Pretty brave for a 23 month old! Trust me...he was strapped in so tightly that I am surprised he could lift his arms to wave...He is in the red airplane: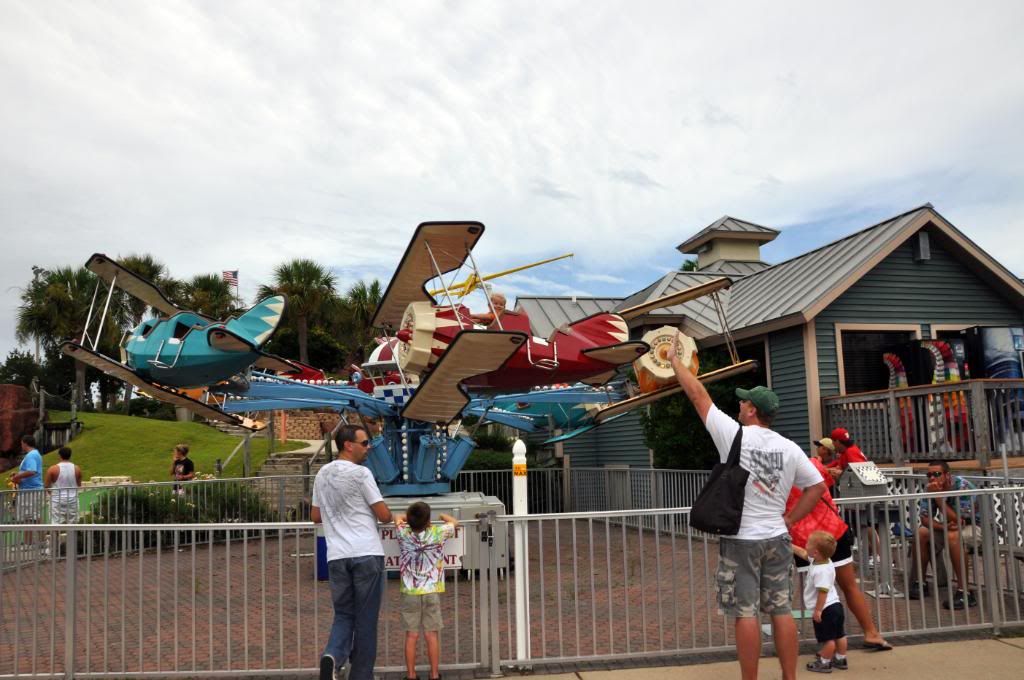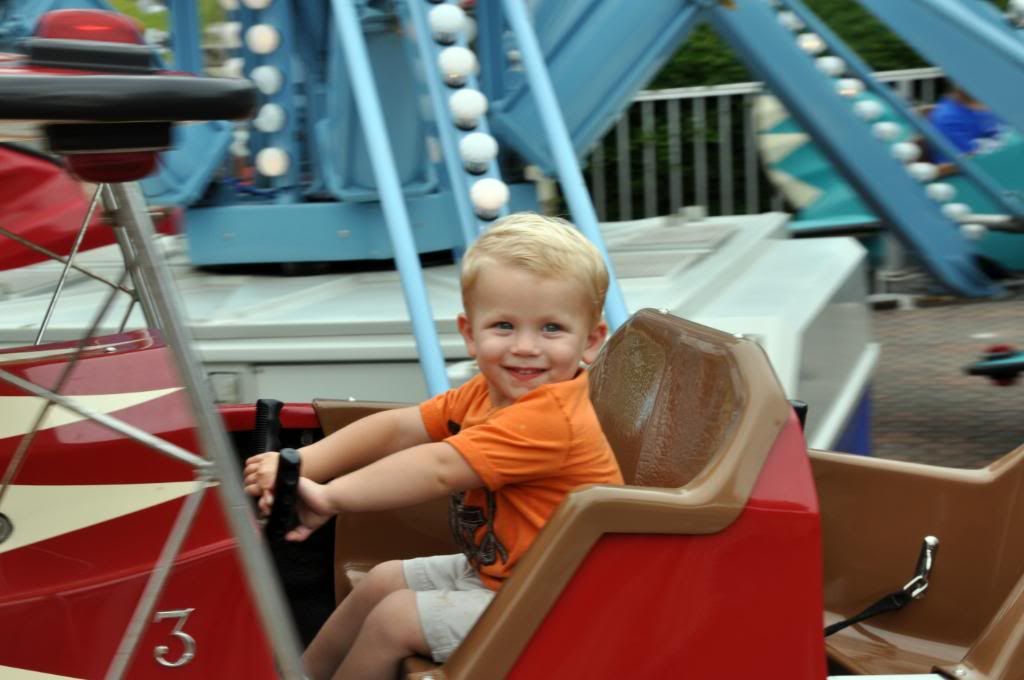 And before we left, the boys watched go-carts on their left and bumper boats on their right. They were once again in complete awe!