We are creeping into the 2 year mark and the little attitudes are shining through. Full force. Especially Mr. B-man. He is disobeying and trying my patience at every opportunity he has...well, every opportunity that Daddy is not around...you see, he acts like a completely different child around me. They both do!! I enforce discipline, but the Daddy just does it better. Maybe it's his deeper voice? Or that he always follows through. I follow through, but I am the Mama. I just cannot be a stern as him. I try, but I hate to see the tears well up in my babies eyes, and as soon as the tears fall down their little cheeks...forget about it. Even if I am madder than I have ever been, something just caves inside of me and I ease up a bit and remember that they are only 1. I am in no way a pushover, but Daddy rules the roost. I kind of prefer it that way :)

This morning, Brody decided to take Wade's bowl of "fruits" (fruit loop's in Harrell boy lingo) and throw it across the room. And then he smiled as Wade cried. I immediately gave him "the look", which apparently didn't phase him, because he then swiped Wade's sippy of milk and threw it over the couch, all the while, looking me in the eye. I told him to go to timeout and he said, ever so casually, "No." I walked closer to him, told him to go to time out in my most stern voice, and he replied, "No." Todd came out of the bedroom, popped him on the hiney, told him to go to timeout, and what do you know, he listened. He was in timeout 3 times before school today. God, please help me, or at least let only 1 child act up at a time. Thank you. Amen.

The B-man in timeout. Check out his "smug-ness"...little poop. (I had to stand in front of him, while he was in timeout, because he would not stay in his spot. The camera happened to be on the buffett table next to me, so I took a pic)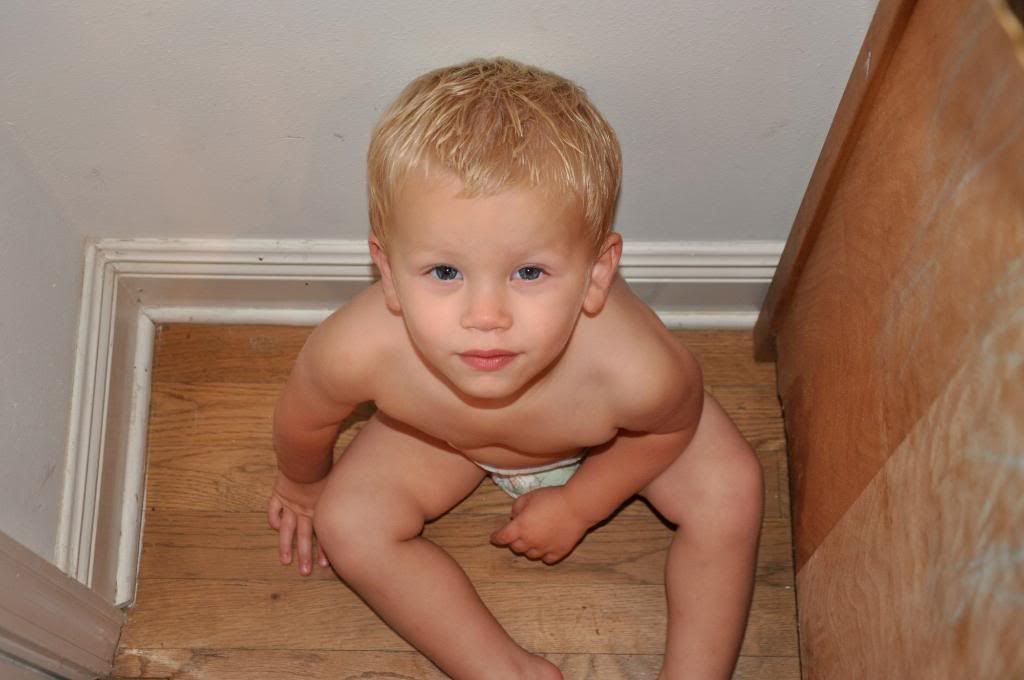 After I got down on his level and explained why I was upset and what he could do differently, we hugged...and he said sorry to his brother. The boy has the sweetest heart but LOVES to test us.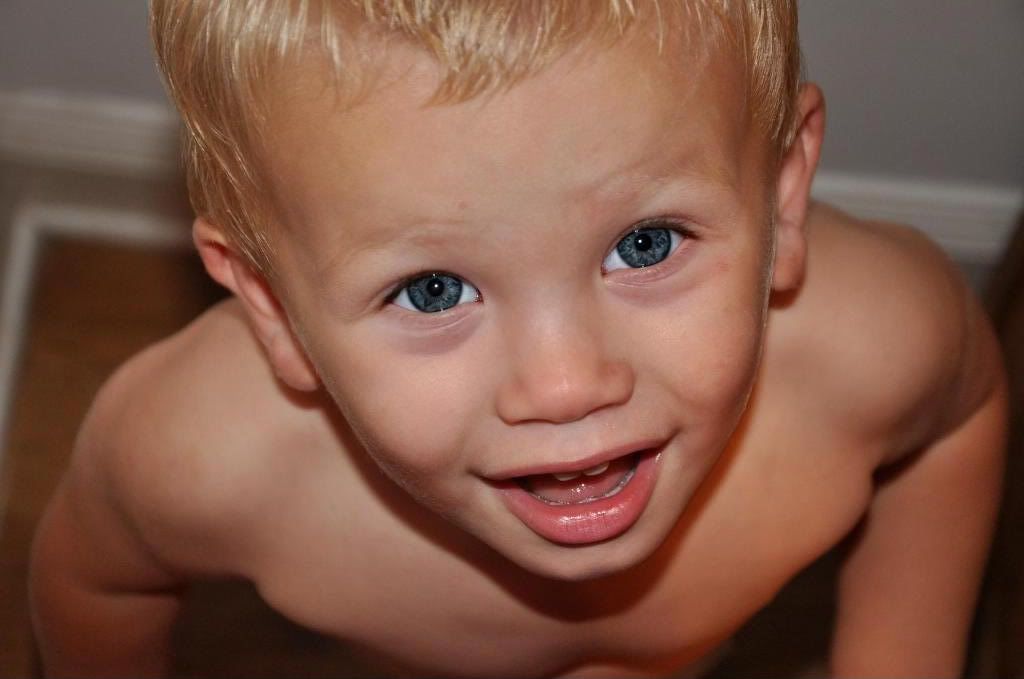 As the boys are getting older, they are loving to do "man things". They love to follow their Daddy around the house and the yard...helping every chance they get! Oh, how it brings me such joy to watch the 3 of them interact.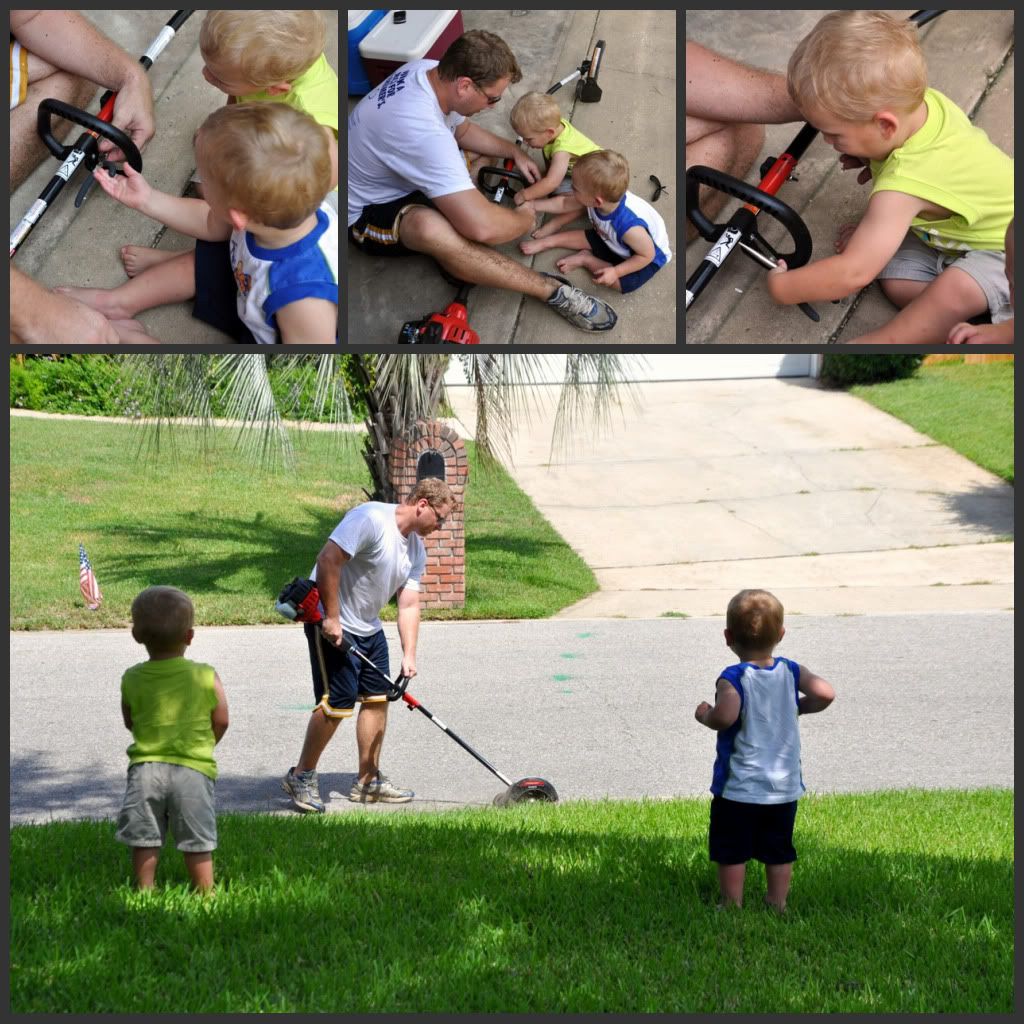 A recent hit at the dinner table is corn on the cob. Fresh and sweet, with just a dab of butter and the boys go wild...It is the only veggie Wade will eat, well, besides broccoli!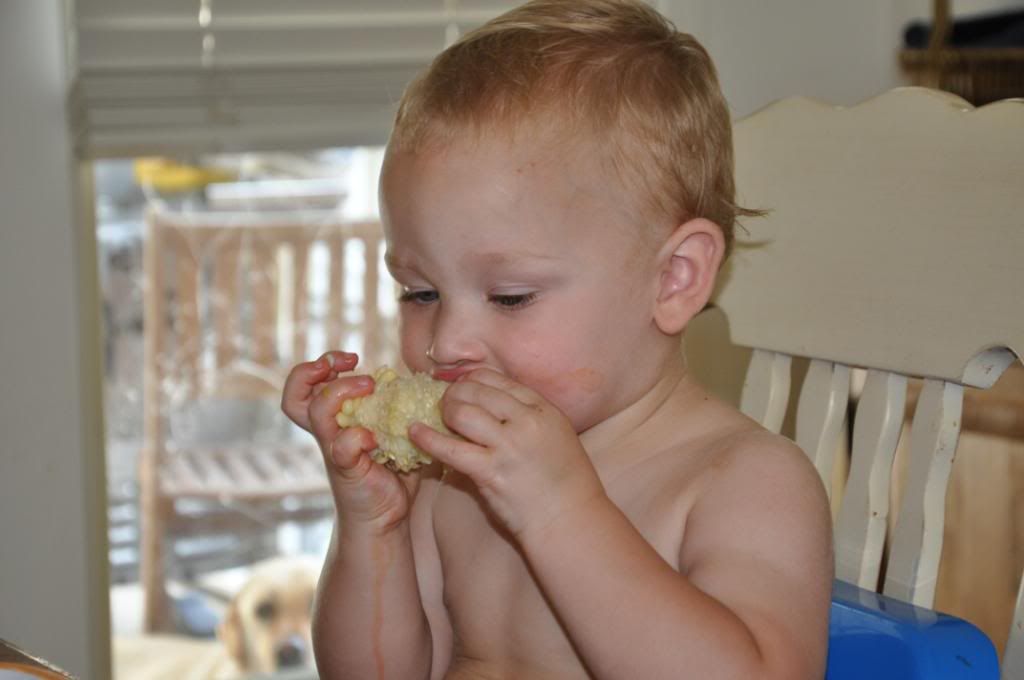 After 1 and 1/2 ears of corn, Brody was still asking for more...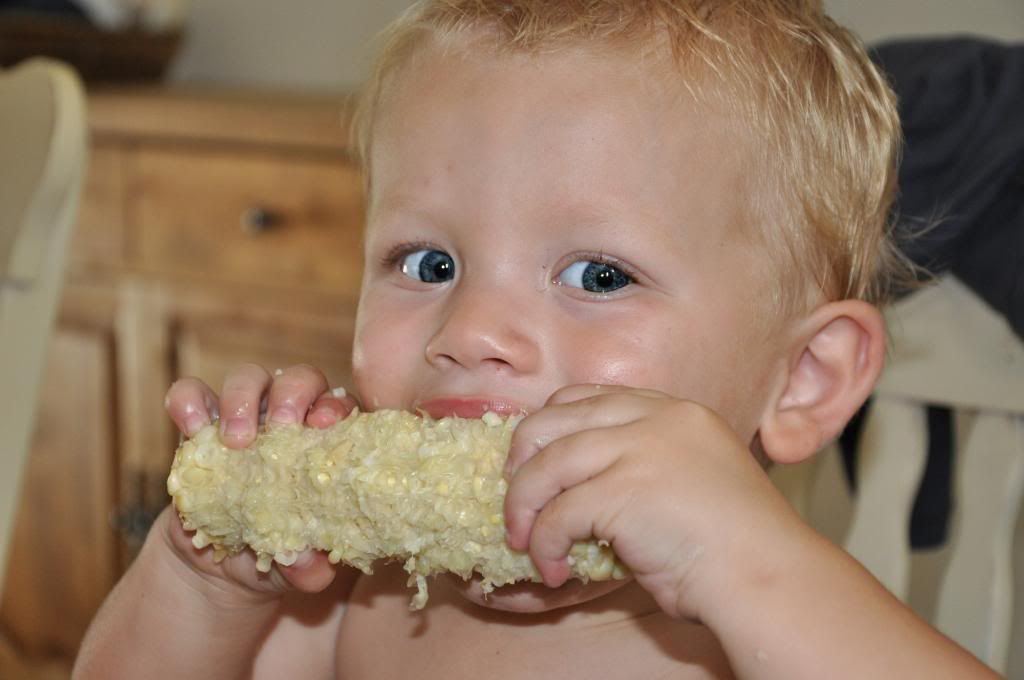 They no longer use sippy at the table and love to drink out of big boy cups!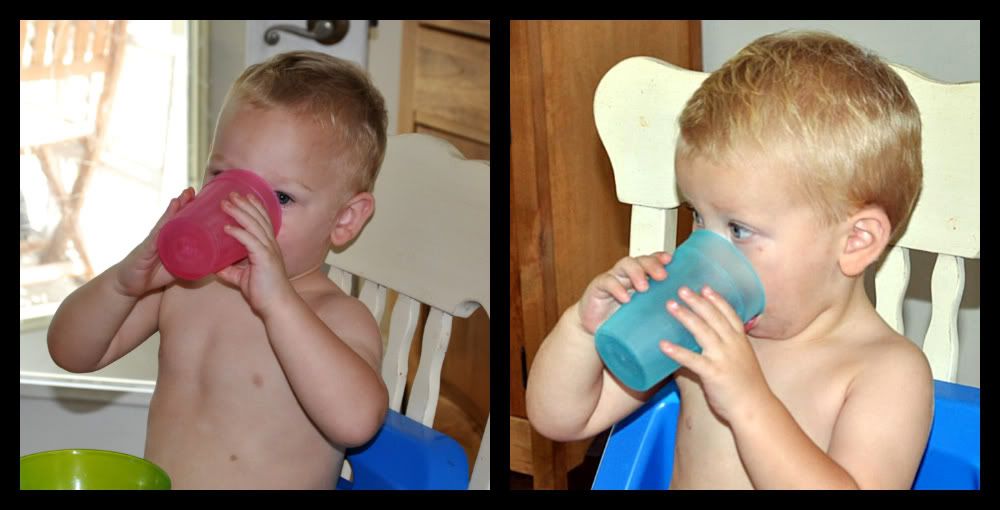 Mornings at our home are busy and rushed and a little chaotic. Sometimes you've just gotta stop what you are doing and enjoy the morning. In the foyer and in your robe.


They are getting so big! Today is their 23 month birthday...the countdown is officially on for the big 2!!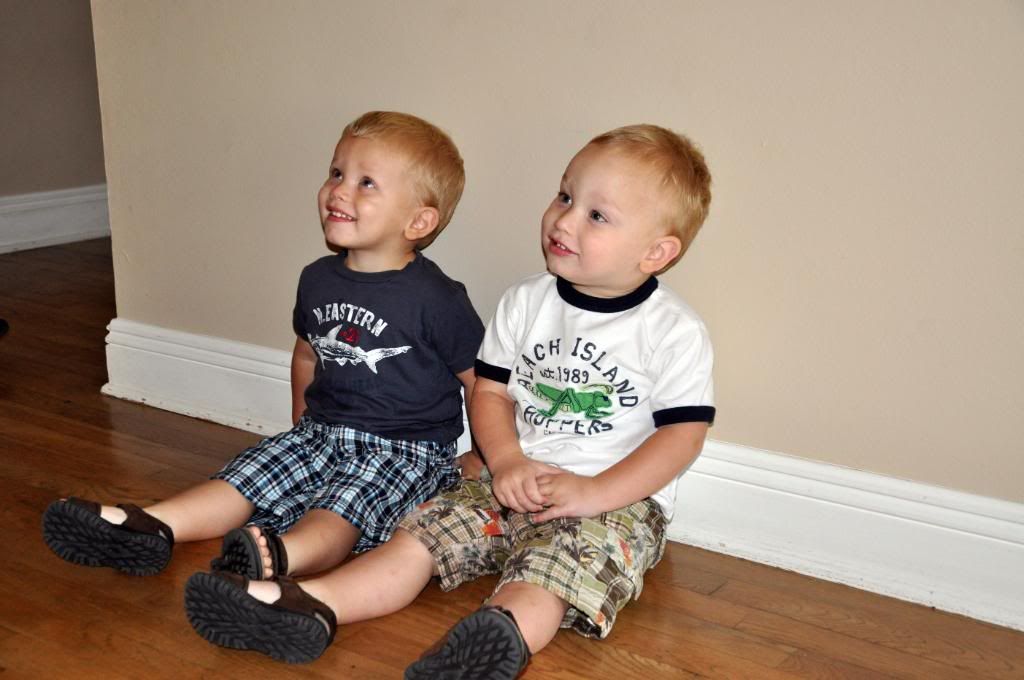 They are incredibly happy and smart and adventurous. They make each and every day a grand experience, worth getting up early for and dealing with timeout every once in a while...(or 10 times before bed...hehehe)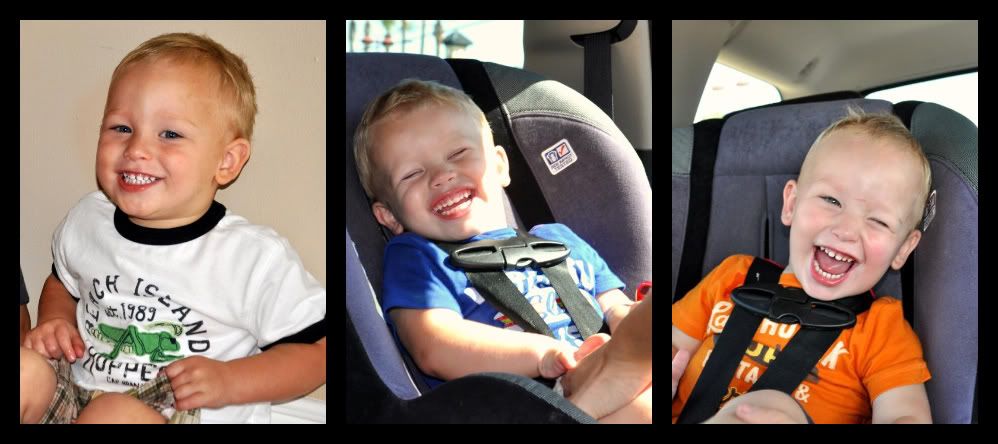 Please, please, please keep our sweet Wade in your prayers this Thursday morning, as he will be having his tube/adenoid surgery! Thank you :)