How to Really Love a Child:

Be there. Say Yes as Often as you can.
If their crabby, put them in water.
Read books out loud with joy.
Go find elephants and kiss them. Encourage Silly.
Giggle a lot. Paint their tennis shoes
Imagine you are magic. Remember how really small they are.
Search out the positive. Let them bang on pots and pans
Keep the gleam in your eye. Teach feelings.
Realize how much it means to be a child.
Plan to build a rocket ship.
Stop Yelling. Surprise them often
Express your love a lot…children are miraculous!
I am totally and absolutely in love with this poem....I saw it on a photographers website, painted on a canvas in bright colors...and I am going to do the same thing. I think this little poem should be practiced each and everyday, so once I paint it, I am going to hang it in our bedroom, above the door, to remind just how precious our littles really are!!!
I had a fabulous time with the boys while Daddy was in Orlando!!
Pop's drove over Wednesday night to spend time with the boys before they left on Thursday morning. He arrived to an impromptu cook out with the Hipsh's and I think he was slap worn out after the whole ordeal! Having tons of kiddos running around and major chaos has become second nature to us...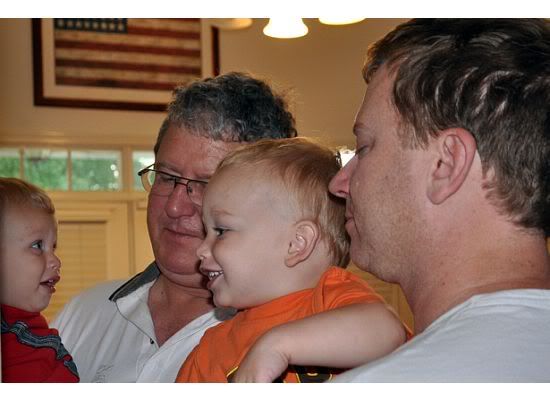 I braved the Bowlegs hut on Thursday night, with the monkeys, by myself...and ended up having a good time...they were great! I brought their push cars and the big kids took turns pushing them around and playing bumper cars!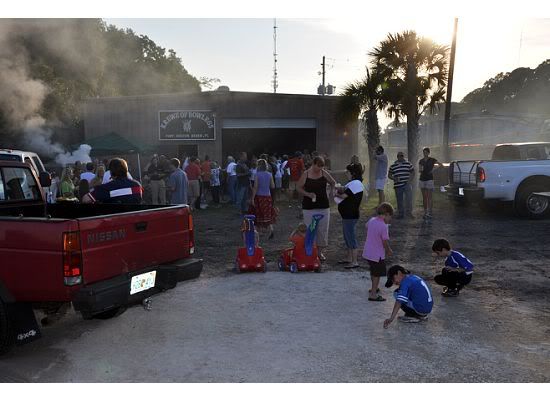 They have grown up so much since last year at this time...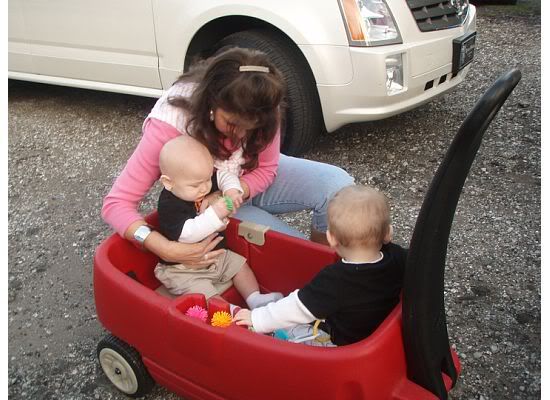 Friday night, we headed over to Nana and Gator's to eat dinner and play in the baby pool!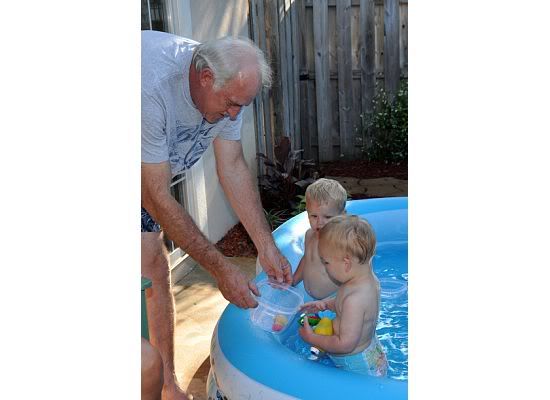 My little hoarder...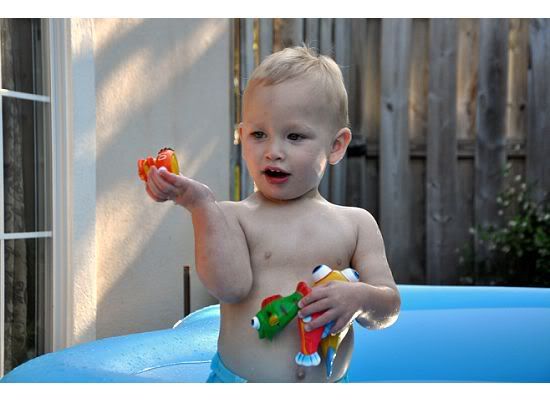 And the next morning found us at Wal-Mart at 7am!!! We were all up and raring to go, so off we went! We ended up back at Nana's house for breakfast and some treadmill climbing...
Nothing like pretzels and a Dorito to go with your scrambled eggs! Don't ask...just don't.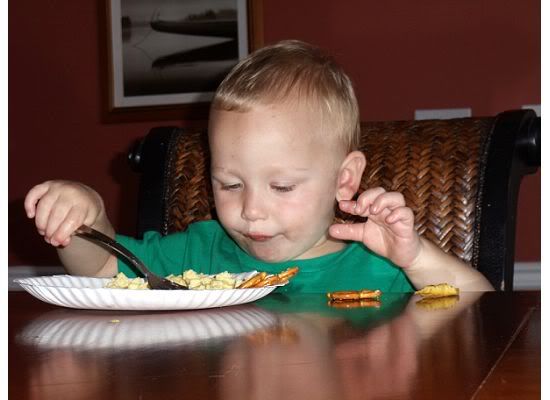 I wish, more than anything, that the treadmill brought me this much happiness. They played on the darn thing for at least 30 minutes!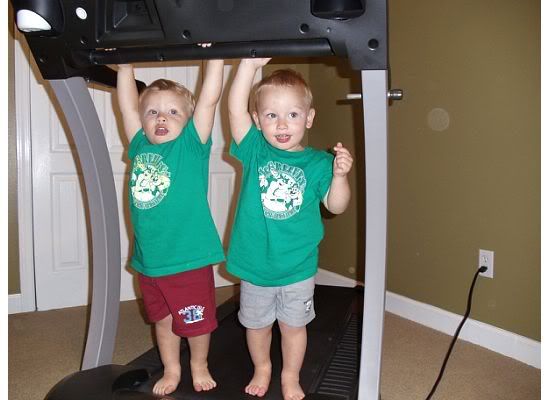 Pop's and Daddy were on their way back home after Orlando on Saturday, when Pop's got the idea to take the boys back to PCB with him for the night...by himself...with no Grammie or anybody to help!! I was a little hesitant at first, not because he cannot handle them, but because they are nuts and I was worried that they would wear him out quickly. He reminded me that he has raised 2 boys and that he could do it just fine!! So, I packed up their little bags and off they went!! Todd and I had no idea what to do with ourselves. The options were endless...romantic date night; dinner and movie; meet friends for happy hour and then play put-put...and you know what we ended up doing?? Changing into our jammies, eating a crock pot dinner in the living room, cuddling up and watching a movie and falling asleep without the monitor on. First time that monitor hasn't been on in months! We had the opportunity to sleep in, but we were both up and ready to go at 8am!! What the heck?? While we were enjoying Mommy and Daddy time, Pop's was busy taking the boys to Publix, then out to eat(...remind you, all by himself...I am so proud!!)and then finally back to the house, where they made a fort on the living room floor and slept soundly!! Pop's ended up sleeping in the recliner and woke up to 2 little munchkins saying "Pop's! Pop's!" and poking at his C-Pap. I would have just died...can you imagine? He survived and had a wonderful time doing it. What great memories they are making together....Thank you so much Pop's, for our evening alone and we think you are totally cool for building a fort and having a slumber party in the family room!!!
Todd and I stopped in Seaside on the way over to pick up the boys and really enjoyed our view, while eating a fresh lettuce wedge salad, with bright red tomatoes and blue cheese and a pressed cuban...You really forget what is right in our backyard in the day to day happenings...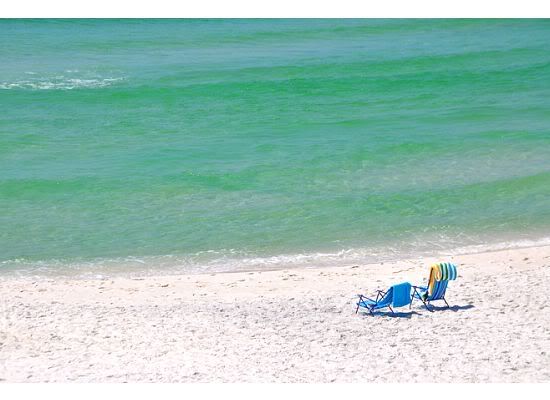 We arrived right about nap time. While B-man crashed out...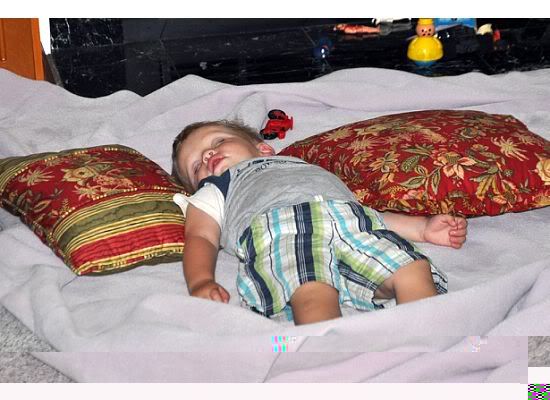 Wade wanted nothing to do with a nap...so down to the dock we went...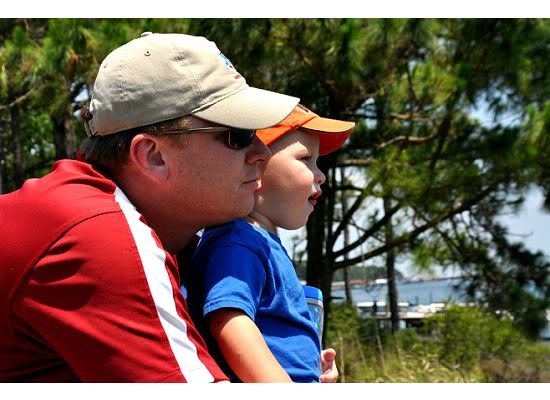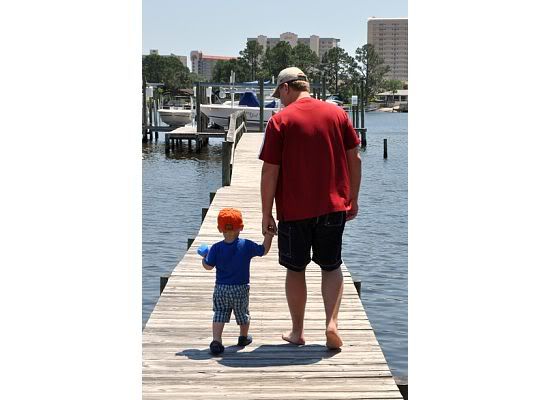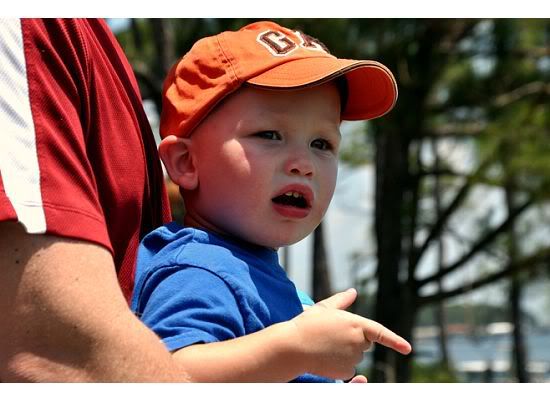 Thank you again Pop's!!! :)
So, as the week comes to an end, we are reminded that it is officially summer...Towels and wet bathing suits, hanging out to dry...the smell of suncreen and bug spray that fills their little bodies before we plop them in the bath at night...Constant popsicle stained lips: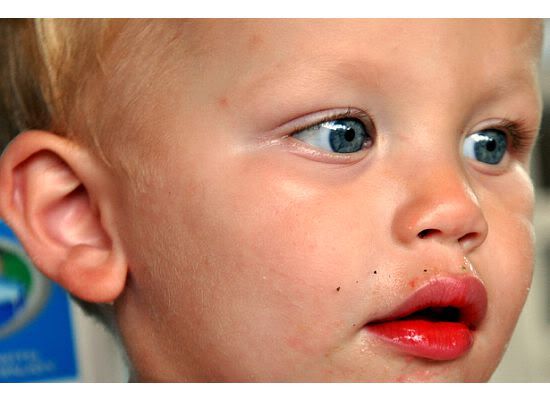 We are truly celebrating this week, as Todd is 3 years cancer free baby!!! Nothing is better than that, huh? Hope everybody is enjoying life to the fullest and relishing in sun kissed faces...