Life has been pretty easy this past week. Just going about our busy little days...taking time out to enjoy the "cooler" evenings. The weather is starting to show the VERY beginning signs of fall...we are enjoying upper 50's in the mornings, quickly heating up to the mid eighties during the day and then back down to the 60's at night. Quite the change from the debilitating heat of Summer 2010. I say bring on the pumpkin spice, cinnamon brooms, mums, windows open letting the breeze circulate our home...football cranked up on the tube and JEANS!!!!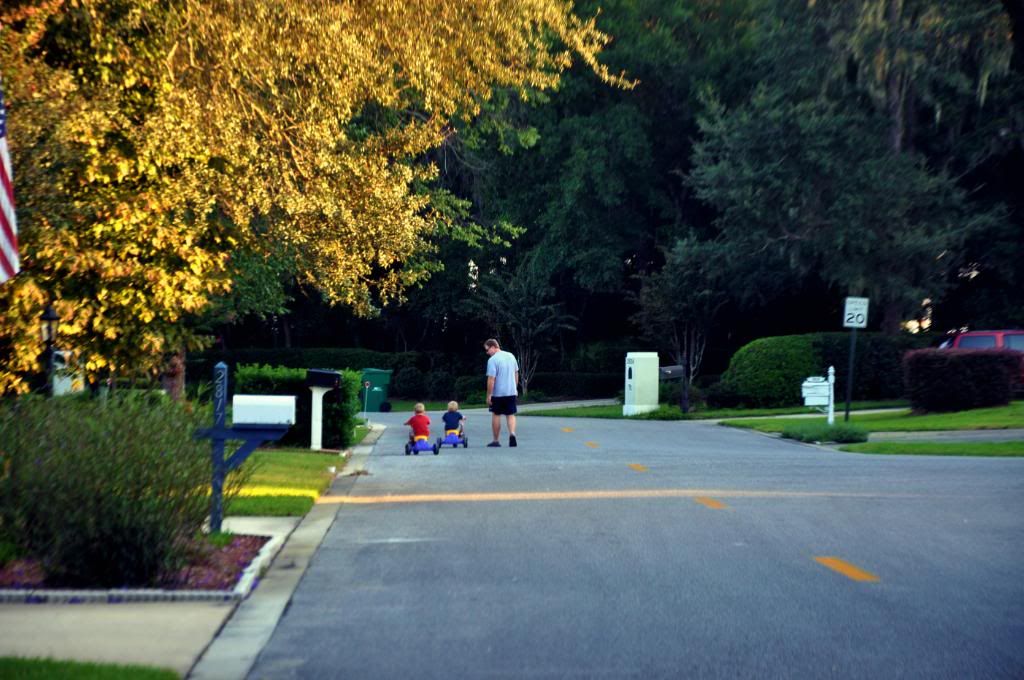 Check our their AWESOME and HILARIOUS costumes for Halloween this year!! Can you just imagine them in these 'bad boys'?? he he he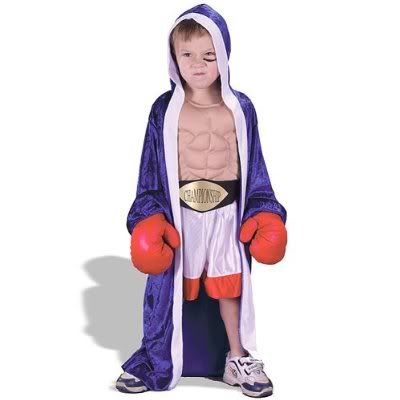 We have been really enjoying spending 1-on-1 time with our boys. Daddy took B-man to the Deal's house last Saturday to watch football and Nana and I took Wade to the Common's to pick out new Schleich animal toys and dance in the water spouts. It is wonderful to spend precious alone time with our boys. They crave it. We crave it. They both act like perfect little gentleman when they are apart. As Brody danced out the door, excited to have his Daddy all to himself and proud to be be sportin' his FSU football jersey (our new Saturday wardrobe for football season, he looked back and exclaimed, at the top of his lungs, "Bye Mommy!! Bye Wade!! I go with Daddy!!". Todd said that Brody read a book on the couch, was very calm and not too excitable. Wade acted demure at first, not really knowing what to do with out his partner in crime, but soon found that being the only kid to hold Mommy and Nana's hands was pretty darn cool. Pic of Wade enjoying his new toys...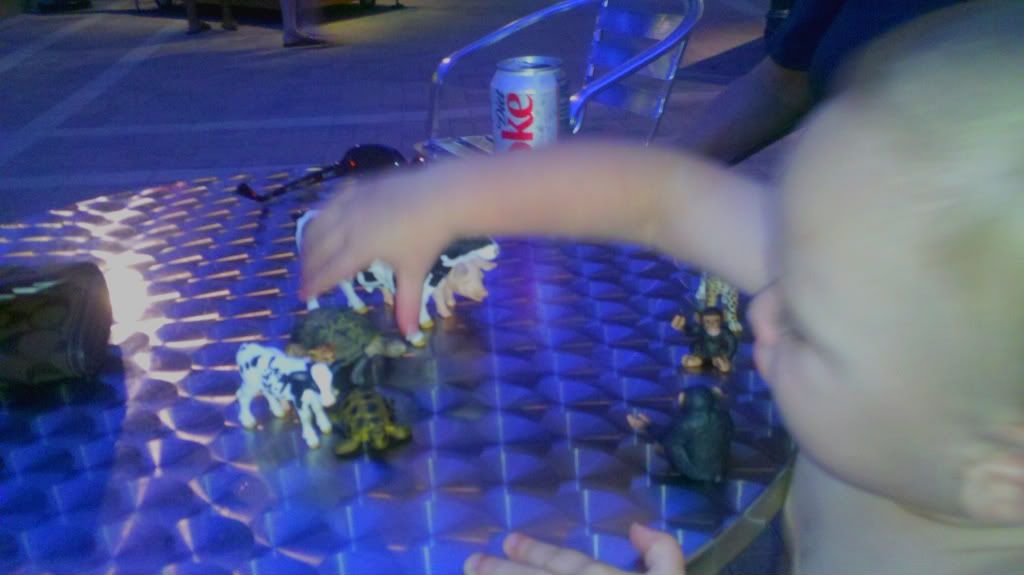 If you have not had the pleasure of owning some of the Schleich animal collection, it is a MUST purchase if you have an animal loving toddler. We bought the "Mama" and the "baby" of the cheetah, monkey, turtle, horse, pig and cow. Thank you Nana for helping me spoil Wade on our special date!!

We have been doctoring lots of boo-boos, learning all about dinosaurs, running outside each night to say hello to the moon, meeting a fireman and practicing with textures/cooking at school, reading and exploring and pointing at all of the different kinds of trucks, collecting as many leaves as we can each day and proving to Mommy and Daddy that we are now (finally) champs at going nite-nite. They both lay down, ask to be covered up, blow us kisses after we say our prayer and that's it. Not a peep. Oh how I love this age...

They are still sloppy eaters, but have a blast doing it.

Brody is the fruit lovin', carb eatin', and with the exceptions of some meats, will eat pretty much anything you put in front of him kind of guy. I think that his motto, while eating, is..."the more I get on my face and shirt and arms, the better the food tastes..."! Loves mushrooms, tomatoes, salad, cucumbers, berries, peaches, oranges, zucchini, corn, green beans, squash…even tried sour kraut!! (He takes after his Mama in the will eat anything department.)



Wade is as picky as they come. Loves chicken, hotdogs, meatballs, hamburger, steak, fish, crab, pork, ribs, brisket…anything that even slightly resembles meat. Loves cheese, grits and an occasional yogurt, rice & beans, eggs and pancakes. That pretty much sums it up. He will devour any salty snack you put in front of him and tends to steer clear of sweets, unless it is a Rice Krispie treat or vanilla wafers. He still drinks more than anybody in our family and loves to dip anything and everything in ketchup. (He takes after his Daddy in the picky eater department.) I do not see sushi in his near future…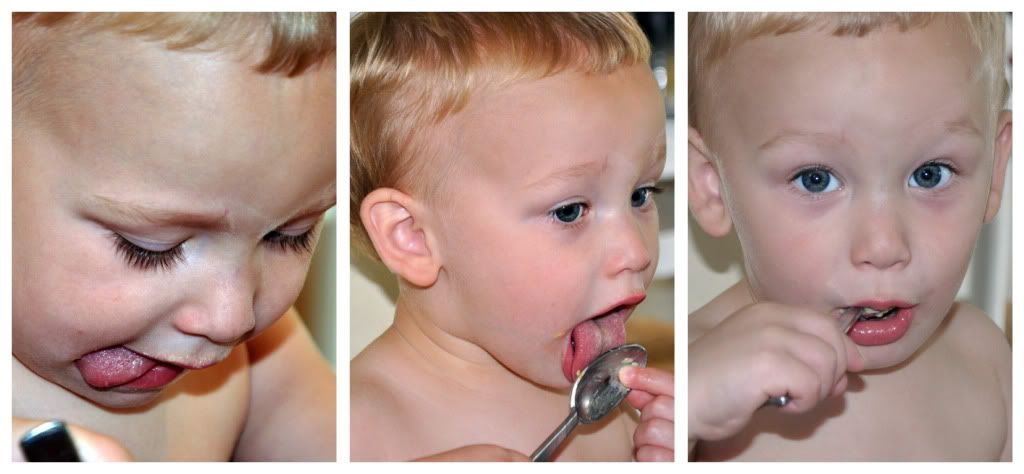 Sunday's are our get ready for the week day. We do laundry, take long naps, stay in our jammies way longer than we should and the boys have recently started watching football with Daddy. We are eating up these times with Brody and Wade, where they still think the world of their parents, think that everything we say and do is really cool and always want to cuddle and be right by our sides. I know that this will sadly change as they grow up. The thought of it breaks my heart into a million pieces.




One last little thing to leave you with. I hate frogs. I don't just kind of hate them, but I really really really hate them. They terrify me. And, just because I am scared to death of them, they have decided to multiply RAPIDLY all around the outside of our house. There are hundreds of baby frogs every where you look. Seriously?? Is this some kind of cruel joke that somebody is playing on me? This pic really does not do justice to the abundance of frogs that keep popping up all over. They even ride on the car windows and follow me to work!!!!!