At Wade's 6 week follow-up visit for his tubes and adenoid surgery, we learned that his hearing is now in the normal range!!! Such a relief, considering the last time we sat in that hearing test booth, he could barely hear a thing and I cried. This time, he swung that little head around to each and every little noise he heard. The Audiologist gave me lots of "thumbs up" from the window and was grinning the entire time. The surgery was a success!!!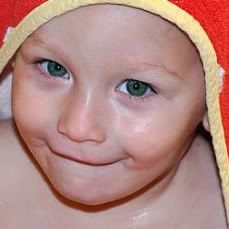 We then dove into his speech...how we (Todd and I) feel that he might flourish with a little assistance from speech therapy. We received the referral, had our initial assessment done at the house, and set up the appointment with the Speech Therapist, Infant Toddler Developmental Specialist and the Social Worker through the Early Steps program. They set the appointment to review all areas of his development, seeing if he would ultimately qualify for the program, as it is FREE for Florida residents...a huge bonus!! The Early Steps program is Florida's early intervention system that offers services to infants and toddlers with delays or a condition likely to result in a developmental delay.
We attended that appointment yesterday morning...they tested him on the following areas:
Physical:
health, hearing, vision
Cognitive:
thinking, learning, problem solving
Gross & fine motor skills:
moving, walking, grasping, and coordination
Communication:
babbling, languages, speech, conversation
Social/emotional:
playing and interacting with others
Adaptive development:
self-help skills, (i.e. feeding, toileting, dressing)
Well....he not only
passed
all of the areas, but scored
above average
in most! We are extremely proud and it feels good to know that he is on track and that his speech is not as far behind as we have previously thought. We also found out that he has improved by leaps and bounds, since his initial screening done at our home, nearly a month ago! Way to go Wade Aubrey...your wit, intelligence and cognitive skills shinned through yesterday and you blew the observers away with your athletic/adaptive and gross/fine motor skills!