Surgery was set for 11am on Friday. It was to be an open/closed reduction and percutaneous pinning to his humerus and his ulna. Basically, a young childs bones are not fully formed and do not show up completly on x-ray, so they have to insert dye, once he is in surgery, to really see where the breaks are located. Closed, means they are able to manipulate the bones and place pins where they are needed, splint and wrap the arm/elbow and send him to recovery. Open, well, means that they actually have to open the arm. We finally had luck on our side and his surgery was closed and deemed a success!! We go back next Monday to FINALLY get his orange cast...The Dr, said it may take 4 weeks to 3 months for his bones to heal, due to the severity of the breaks (3)and fluid remaining around his elbow.
The actual surgery day was WAY harder on Mommy and Daddy than the actual patient. He spent his time doing puzzles, reading books and watching movies, while Todd and I kept exchanging nervous glances in the background. But you know what? The time actually flew by. The hardest part was when all of the surgical team, Doctors, Anesthesiologist, Nurse Anesthetist, Nurses, etc were flooding his pre-op room, it became real. And he sensed it and started tensing up. They gave him a little cup of "happy juice"(Versed) to ease anxiety, that he immediately spit out and then really started freaking. I tried to get him to walk to the OR with me, but he started kicking and crying...Todd eventually told them to just take him, as he was not going to drink the happy juice or calm down at this point. Watching them gently take away your baby, and have him reaching and crying for you, will pull on your heart strings. Severely. Oh how I cried...But, within 2 minutes, one of the nurses came to tell us that he immediately settled down when they got into the ER, which I really do not believe...but I had to, to stay sane. So we waited...and within the promised hour, the Dr. came out to deliver the good news about the surgery remaining closed and that we would be called back to recovery shortly.
See those puzzles? Those are from Ms. Kim at school. See that HUGE Get Well Soon Banner?? That is from EVERYBODY at his school! That really made him feel so special...thank you so much CPS!! And a huge thank you to Nana, who not only watched ALL of the boys a lot last week, but also cleaned our house, did all of our laundry and cooked homemade meals...I love you Momma!! Also, notice that he is not in his hospital gown? He decided not to wear it and sported his boxers instead. That's my boy!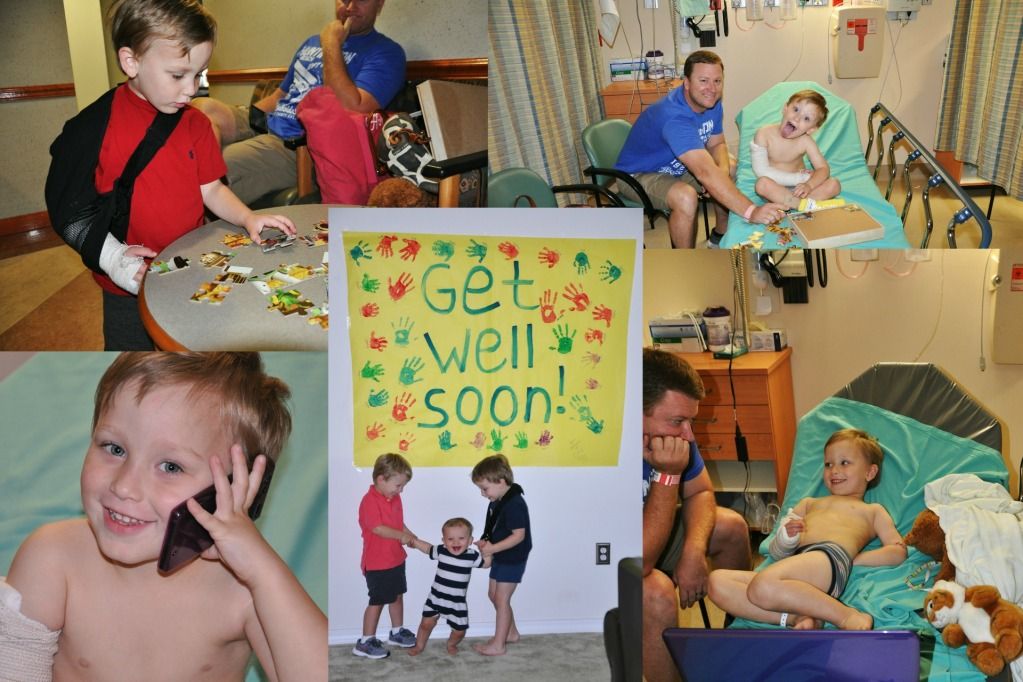 The grizzly bear came out in him while he was waking up from surgery...he was thrashing, pinching, saying crazy things and inconsolable. The Nurse explained that this was common in Pediatric patients(that we got a small taste of when he had his tubes/adenoid surgery) and that he would slowly "come to" and we would have our boy back. And we did....except a VERY sleepy boy. We could not even put a t-shirt on him so he was discharged in shorts, without his shoes or a shirt on. Pretty funny...only a child!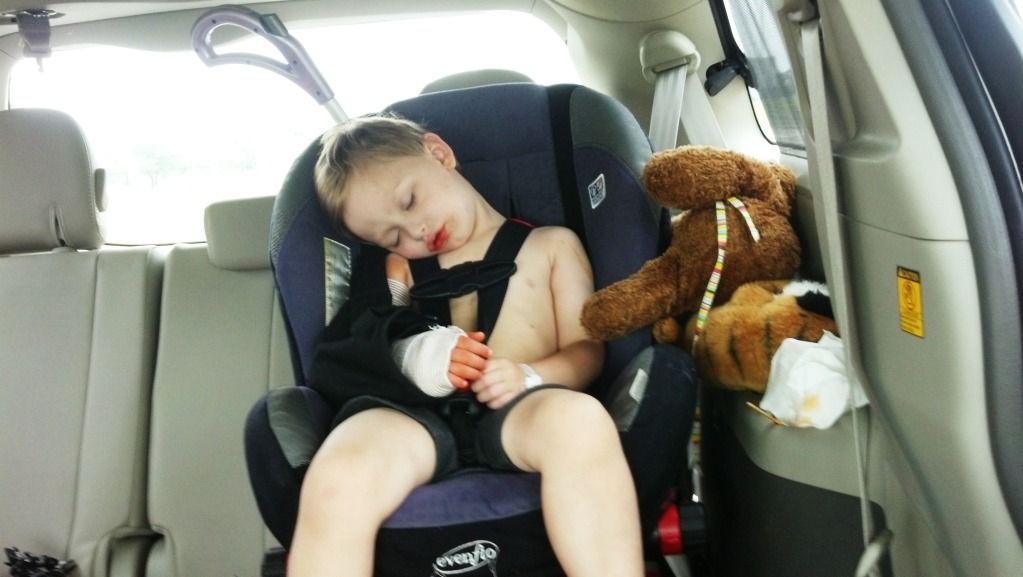 Now, the hard part will be keeping him calm until the hard cast next Monday. He has been such a trooper and I am so proud of him!!! Thank you everybody for the get well cards, gifts, emails and texts...it feels wonderful to be surrounded by the love and concern of our family and friends. And to think, this was "just" a broken bone. There were much younger kids there, with life threatening ailments. I really thank God each day for my healthy family and pray that we continue to remain that way!!
Todd is pointing to the word NO written on his left elbow...we happened to notice on one of the pre-op sheets that it said surgery on his left elbow. Uhhh. No...it is clearly his right! So Todd grabbed the marker and wrote NO on his left elbow...Think they got the hint? hehehe