Has it really been 3 years??
Brody Lee at 3 years old:
You are our feisty little guy, who is quick witted and the sneakiest of them all. You love to challenge us on a consistent basis and enjoying testing your boundaries. You remain extremely intelligent and determined and have 1,000 questions about everything! Your bright blue eyes light up any room and your million dollar smile will take you many places in life, B-man! You always have to be fully dressed and love to wear your fast shoes. You show us how fast you are each morning by running laps around the dining room table! You rival me with your ability to talk non-stop and are bound and determined to be the first to do everything…You follow up conversations with, "See, I told yoouuu…" and you are constantly trying to persuade Wade to not like his snack and to give it to you instead. Brody, you are hilarious, very LOUD, can maintain a conversation with an adult and love it when Mommy and Daddy are proud of you. You have become quite the fish and love to hold your breath under water. You have an extreme sweet tooth and a strong love for your brothers. You wake up smiling 99% of our mornings and love Mr. Bear something fierce. You still prefer milk over any drink and will try almost any food. You, sweet boy, are our fun loving, blue eyed, clever and bright sunshiny day! Happy 3rd Birthday!
Wade Aubrey at 3 years old:
You are our loving soul, who remains laid back and a go-with-the-flow kind of guy. You are eager to please and love to figure out how things work. Your favorite word remains "Why?", even though you know the answers to most questions. You are always the first to give up your last bite of snack to B-man and give Mommy and Daddy kisses all day long. Your sweet temperament shines 99% of the time, but watch out when you just don't feel like being "messed" with…You are always grinning from ear to ear and could eat macaroni and cheese until the cows come home. You are a nudist at heart and let it all hang out everytime you come out of the bathroom. We are always telling you to pull your pants up, but you prance around the house naked without a care in the world! You are brave and strong and are always bruised and battered up. We think the last blow to your little forehead has left a permanent dent :( You bring laughter, softness and spontaneity to our family. You love to help in the kitchen, dragging the chair with you as we move around, asking to help stir and pour and chop. You have mastered the monkey bars and I think your love for daring jumps and dives off of the playground is going to give us a heart attack one day. You, sweet boy, are our giggling, mischievous, engineer kiddo who will move mountains! Happy 3rd Birthday!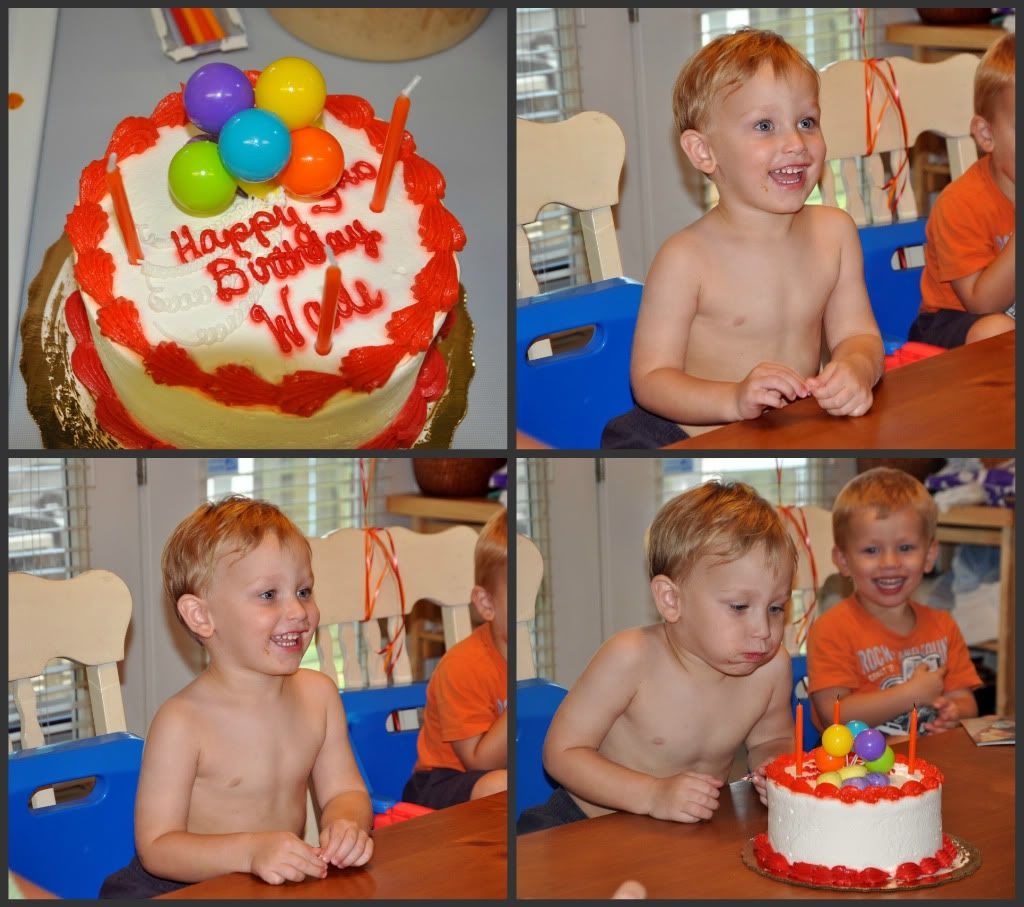 We celebrated the boys' 3rd birthday with just family this year! Our visitors included Mimi, Grammie, Pops, Nana, Gator, Aunt Allie, Uncle Scott and cousin Caden! We even had a special visit from their teacher, Miss Jamie!
After the boys went down for their nap, I put on my decorating hat and let the transformation begin! I wanted them to go down for a nap with the house looking normal and wake up to decorations everywhere! I hung 26 helium balloons throughout the house, including a HUGE #3 balloon and a large happy birthday star balloon. We hung signs and banners and really "birthday-ed" up the house! Wade's favorite colors are orange and red and Brody's are blue and red...so those three colors where the theme to the party! We sang Happy Birthday to each one individually and they each had their own cake...we made their requested dinner of BBQ chicken, mac-n-cheese and green beans and flaky biscuits...we opened and played with tons of presents and loved having our families there with us to celebrate!!

LOVING their new basketball hoops, working tool bench, Toy Story Imaginex, Thomas pirate ship, Cars launcher, Lite Bright, Fingerpainting set, Handy Manny truck and drill, etc...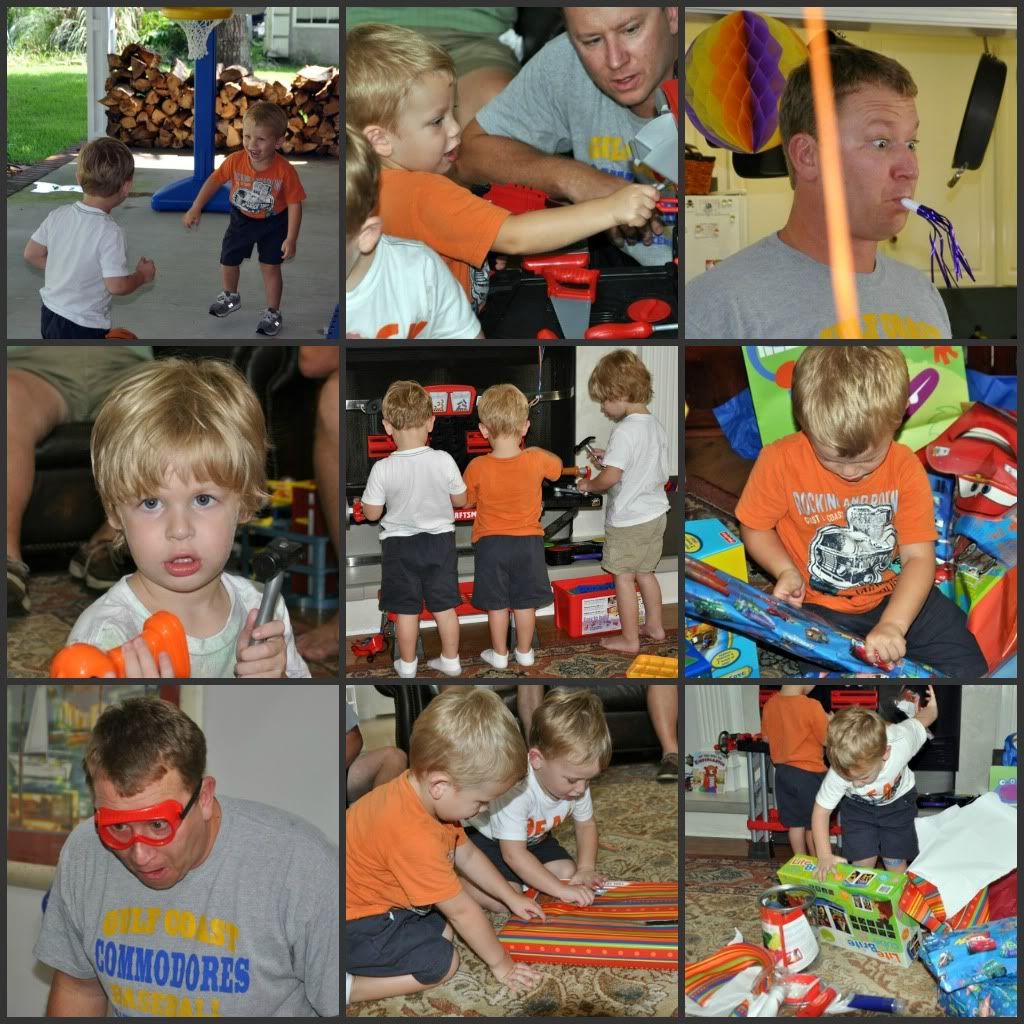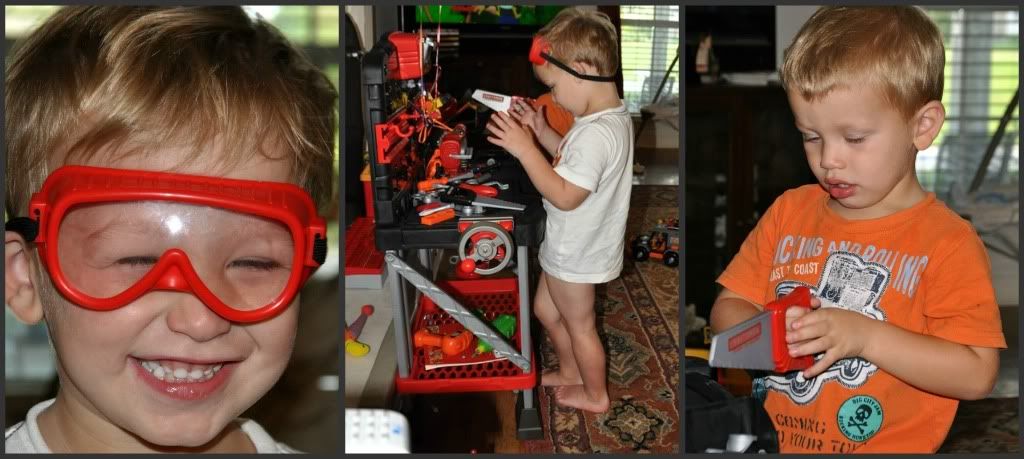 Three Harrell boys...all 3 years old!
Putting on their "Rock Show" for the family! Mimi brought money to give the boys, and we decided that instead of them opening the cards with money, that it would be more fun for her to go to the store with the boys, watch them pick out their toys and play with them! It was quite the experience to go up and down the toy aisles and let them pick out whatever they wanted. To sum up the experience, Wade had 80 million things in his cart and wanted everything. B-man would hold each toy for 1 minute or so, study it and then put it back (Well, Wade would add it to his pile!!). He could not decide and was completely overwhelmed! We ended up with a box of Trio blocks (my favorites!), drums, a guitar and a Diego jeep. The boys even handed the cashier their money and were so proud to be paying for their stuff! Thank you again Mimi for the fun experience!!

A special visit from Miss Jamie! She came armed with hugs and kisses and presents...thank you Miss Jamie...that made their day! And this is how Jack spent the ENTIRE party...sleeping. Never budged.
They were also enamored with their new hermit crabs from Nana and Gator.
They named them Billy (Wade's) and Freddy (Brody's).
Poor Billy has already gone to heaven twice…………………. Wade has no idea that his crabs keep dying off - Guess we will be heading out to Pet Smart, once again, taking them up on their 2 week guarantee!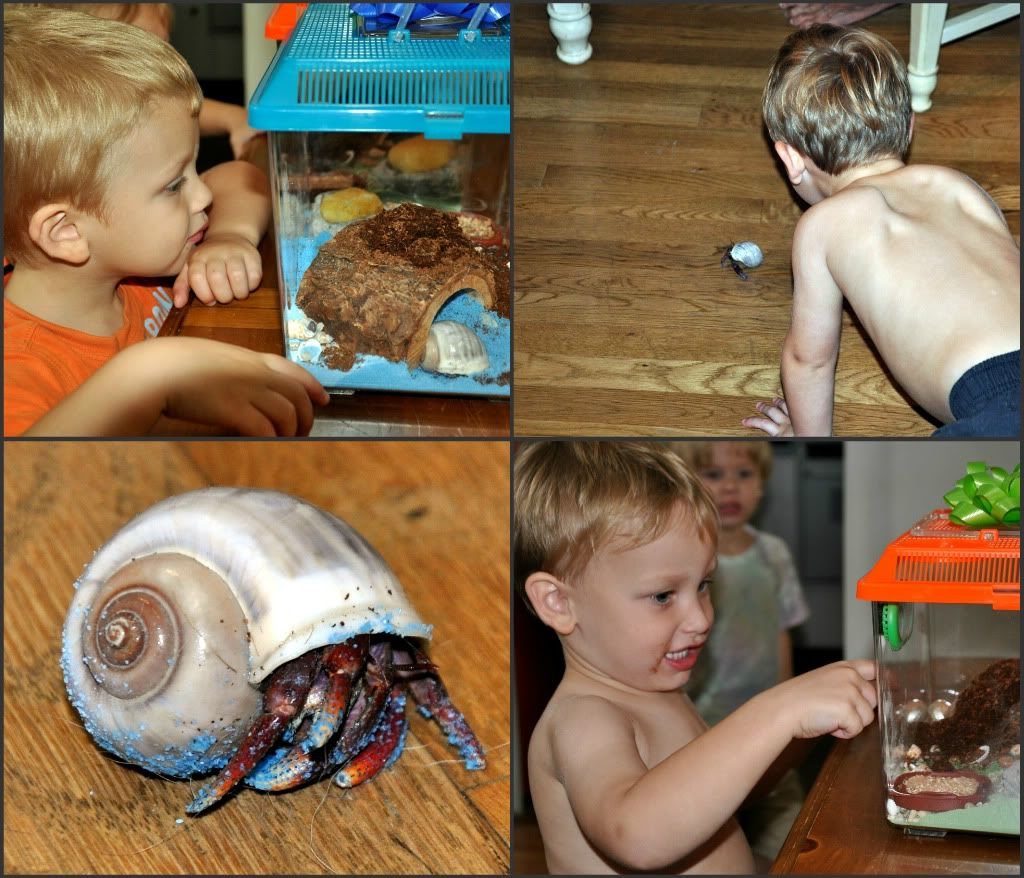 We already miss you Mimi!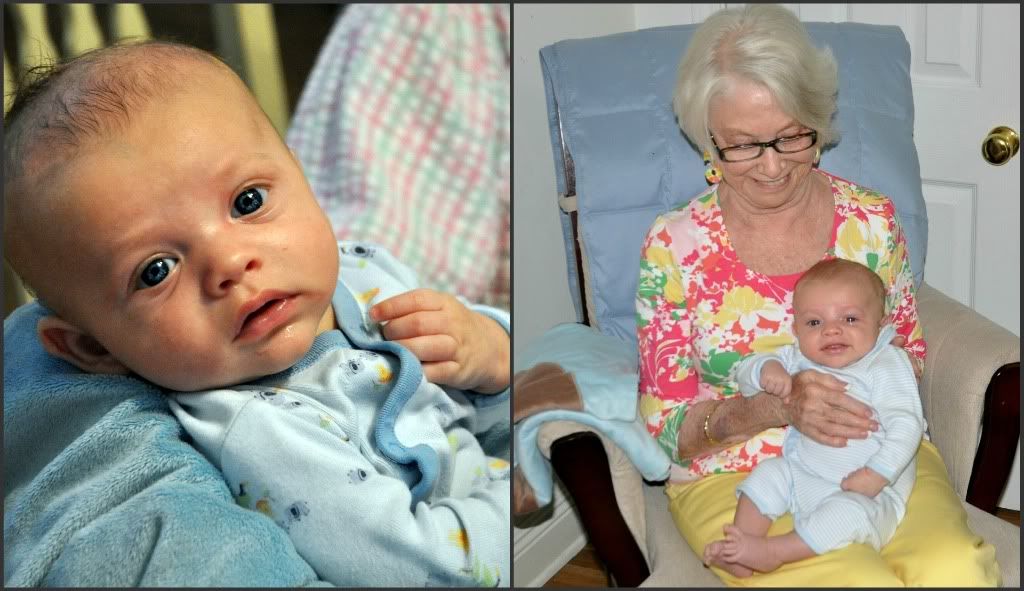 3 exhausted boys after partying all day long...Happy 3rd birthday to Brody and Wade!!!