Our trip to the beach last week did not end as we had hoped...Whitney captured all of the "meltdowns and struggles" on camera...

Mommy and her boys taking it all in. One last peaceful moment...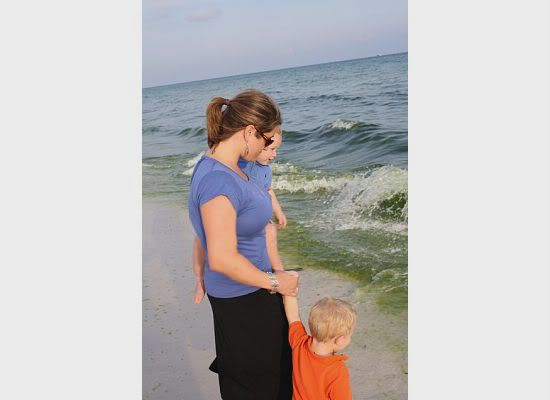 Brody and Wade are normally bathed, have had dinner and are ready for bed by 7pm. The following pictures capture what happens when little toddlers get cranky...

Refusing to walk to the playground. We ended up carrying them...we should have known at this point it was time to pack up and head home, but I insisted on spending the evening at the beach, much to Todd's insistence upon leaving...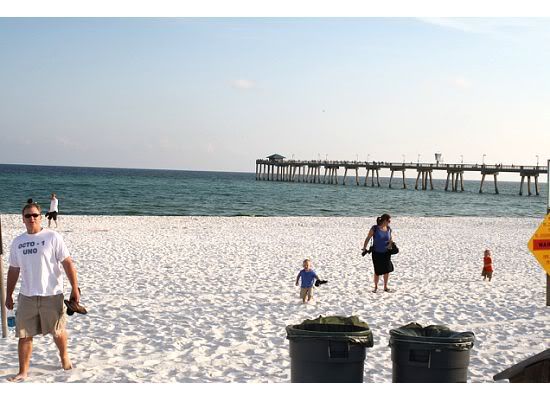 Finally made it to the playground, and boy were they busy. The playground is probably built for 3yrs and older, but B and W made do, even if they were pushed around a bit and thought it was fun to throw sand at people :( Todd ended up chasing them around for 20 minutes and was not happy when the crankiness REALLY set in, because remember, he wanted to leave in the first place...

They were already soaked from the ocean, so a sandy beach playground + wet clothes = VERY sandy little boys. Enter the freezing cold boardwalk showers: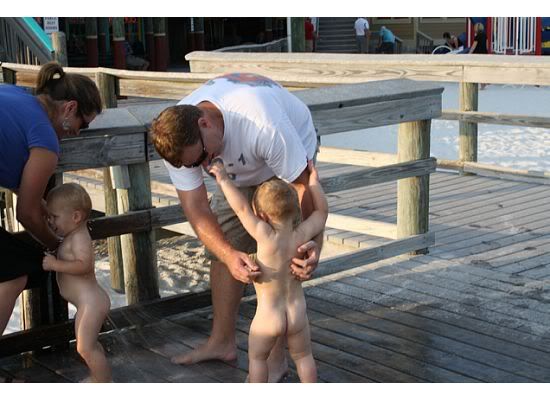 Boy, that was fun. (Enter the sarcasm anywhere in that previous sentence.) Even better when Wade bolted away from me, down the boardwalk, naked as a jay bird.

By this point, it was after 7pm, and the boys were in full force meltdown. Did not want to leave the beach. At all. Tired, sandy and hugry too. All of the restaurants that line the beach are wide open, so all of the people enjoying their seafood fare witnessed the whole ordeal. Boy, that was fun. And these meltdowns were the kind, where they melted out of our hands and would sit down wherever they were at that very moment, and cry.

Here we are, almost to the car, meltdown #89 for the evening.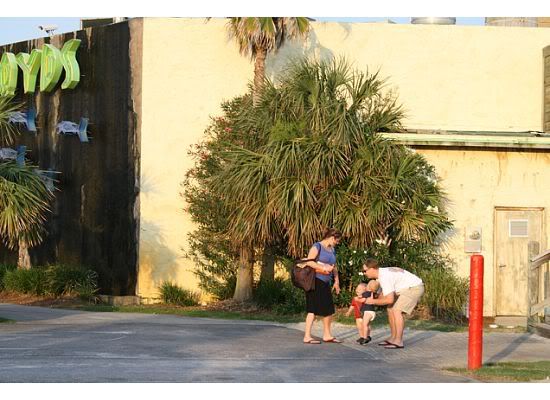 At one point, Brody was sitting on the pavement in the parking lot, crying, and Wade was acting OK. Wade looked over, decided he should sit on the pavement too, and started to pretend to cry. We died laughing and Whitney busted out the camera!! Life with toddler's is always interesting. We try to remind ourselves that even though some excursions may be hard on us, the kids will get to experience life long memories... See? Everything ended up just fine.............hehe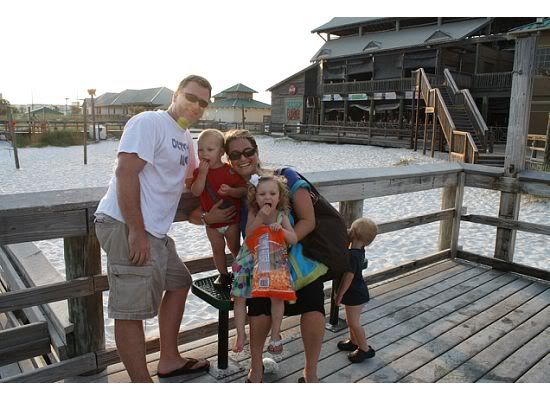 Todd and I are part of the Krewe of Bowlegs, so this weekend, starting Thursday night, was a whirlwind of parties, parades, boating, storming the landing, taking over the city and playing in the rain. Todd was in charge of the whole boat schedule, boarding, set-up, take down and de-boarding of the boats, so he was a VERY busy guy on Friday and Saturday! While Mommy and Daddy played pirate dress up: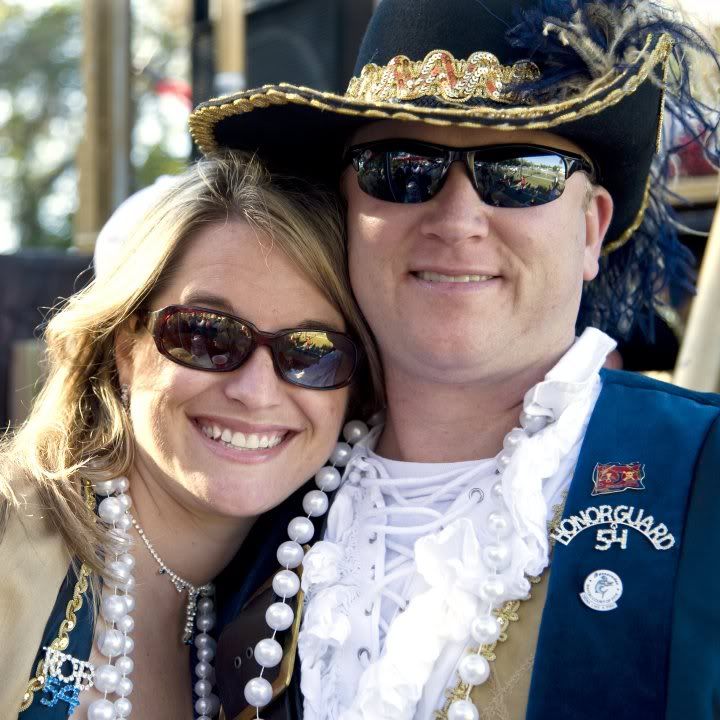 ...the boys started off their pirate week with a party at school! Todd, along with Larry and Mark, came dressed as pirates and handed out lollipops and acted "pirate like" with all of the kiddos!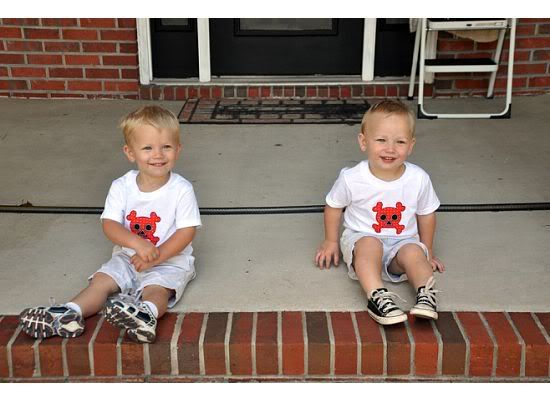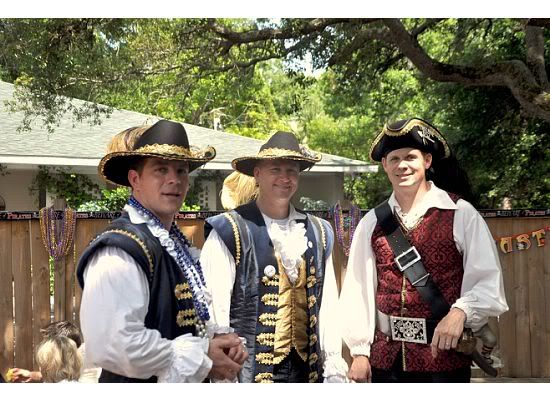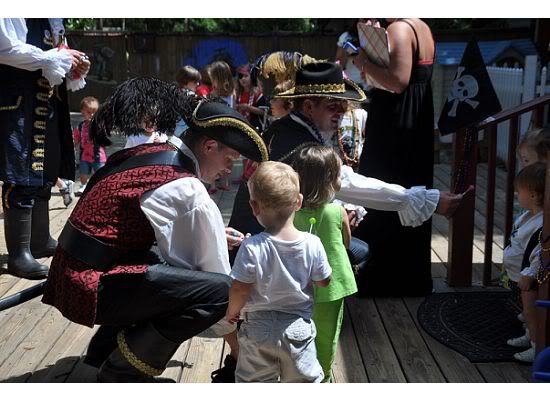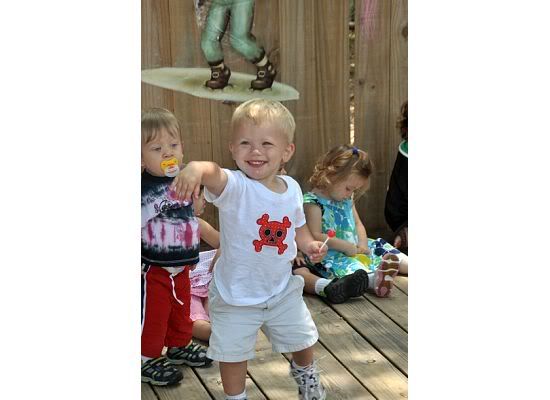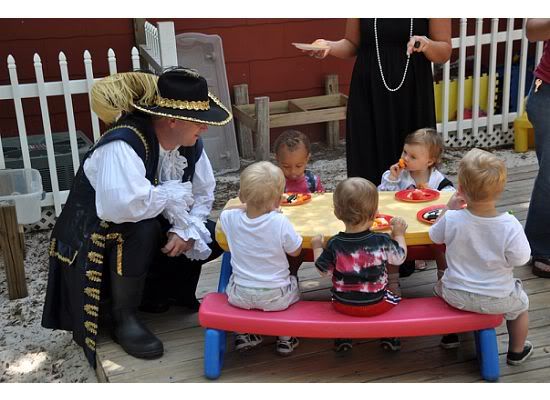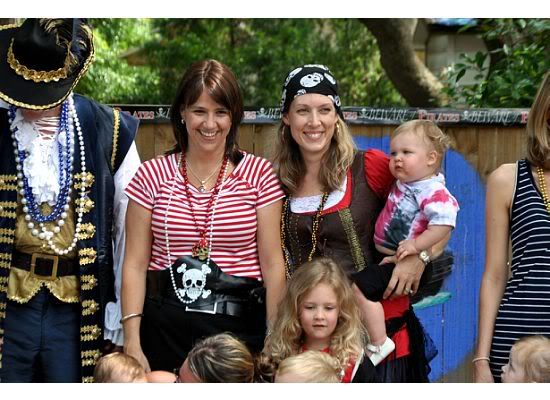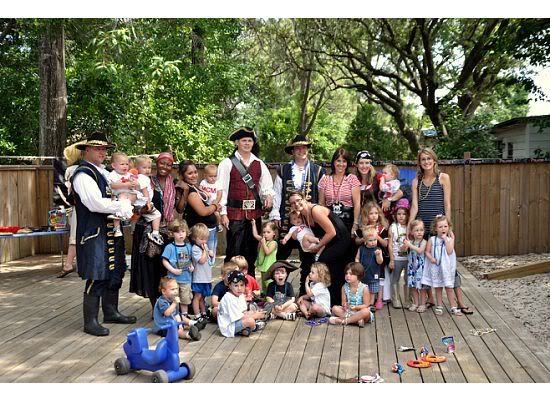 One of the 2 year old teachers happens to also be a professional photographer and captured some AMAZING pics of B-man before the party. Check out those eyes and his beutiful lips...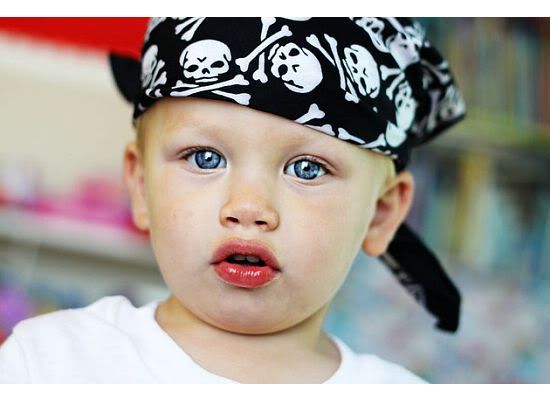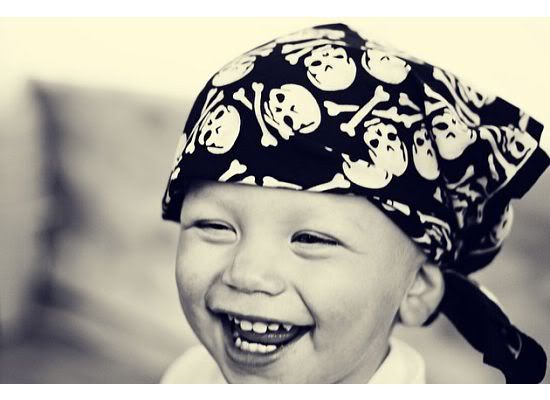 Her name is Ali Bloxson and her website is http://www.plumbphotography.com/ She has a very fresh and unique style of photography and I feel so lucky that she will be able to capture images of my little men, while at school!!

A very special thank to Grammie and Pop's who came over for our Bowleg's weekend and took care of the munchkins. I obviously have no pictures, as I was gone all weekend, but I do know that they had a blast together and cannot wait to do it again! Thank you so much!!!!!